Suspected killer of two cops arrested in Palm Springs, Ca.
Published time: 8 Oct, 2016 22:54
Edited time: 19 Dec, 2016 19:09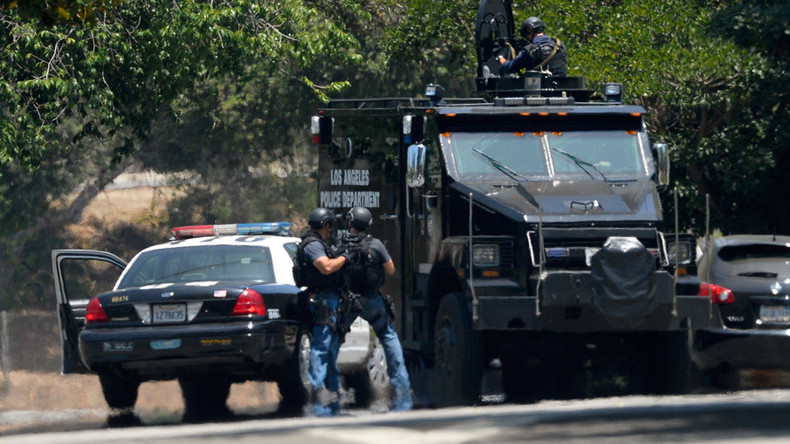 Police have arrested the suspected killer of two officers after an hours-long manhunt in Palm Springs, California. The officers were killed while responding to a domestic disturbance call. A third officer was reported injured by the gunman.
One of the officers killed was identified as Jose Gil Vega. Vega, a father of eight, was supposed to retire from service in December, according to Palm Springs police chief.
According to Bryan Reyes, Palm Springs police chief, Vega was not scheduled to work on the shift and chose to work overtime that day.
The second deceased officer was a 27-year-old Leslie Zerebny, a mother of two, who recently returned to the police service and leaves a 4-month old baby.
A third officer has been treated at the hospital and is helping with leads in the investigation. He is "doing well," Reyes said, refraining from identifying the officer.
According to Reyes, police responded to a call from the suspect's mother, who said that her son was causing a disturbance at their home.
After officers arrived at the scene, they attempted to "kindly negotiate" with the suspect at the porch. However, he refused to cooperate and then reportedly opened fire on officers without warning.
Riverside County SWAT forces sealed off the neighborhood as police officers evacuated some residents. Others were instructed to stay inside their homes and not to open their doors to anyone until further notice.
Town resident Frances Serrano told AP that the father of an alleged shooter had asked her for help prior to the shooting, claiming his gun-wielding son was "acting crazy."
The breakdown was reportedly triggered by a breakup between the gunman and his wife. The man said he would shoot police if they arrived, Serrano said, adding that the suspected killer had been released from prison shortly before the shooting.
Reyes, the police chief, confirmed that the police had previous dealings with the suspect.
The shooting comes several days after a Los Angeles County sheriff's sergeant Sgt. Steven Owen was killed while responding to a burglary call in Lancaster, California, on Thursday.
READ MORE: Sheriff's deputy killed, another injured in shootout with burglars in S. California

A male suspect shot and injured Owen, and then proceeded to shoot him four times at point-blank range, AP reported. Owen was shot in the face and died at a hospital from his injuries, according to Lancaster Mayor R. Rex Parris.
The shooter, 27-year-old Trenton Trevon Lovell, was known as a hardened criminal. He has been arrested 11 times and previously served a six-year jail term for robbery at gunpoint, the Los Angeles Times reported.