Sheriff's deputy killed, another injured in shootout with burglars in S. California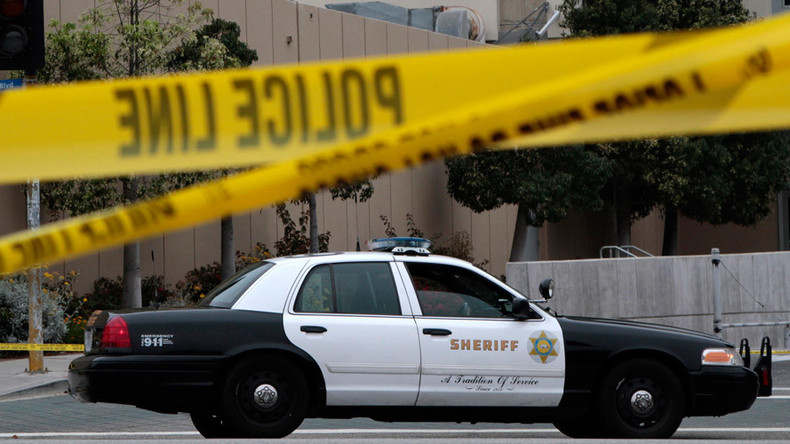 One Los Angeles County Sheriff's Department was killed and another was injured after responding to a burglary call in Lancaster, California. Nearby Antelope Valley College was placed on lockdown as police hunted for the suspect.
The incident occurred near West Avenue J6 and 36th Street, just north of West Wind Elementary School, local media reported. At least one suspect is still at large.
A sergeant with the sheriff's department was injured in the initial exchange of gunfire with the suspect, police said. Another deputy appears to have been shot during the pursuit, which is still ongoing.
A deputy was "struck by gunfire and taken to a hospital in unknown condition," sheriff's department spokesman Deputy Mike Barraza told KTLA. He later clarified that a sergeant and a deputy have been shot, and that they were not partners.
Around 3pm PT, local media reported that the suspect was in custody, with images from news helicopters showing a suspect surrounded by heavily armed Special Enforcement Bureau (SEB) officers.
Sheriff's Sergeant Steve Owen, 53, later died from his injuries, LASD Executive Officer Neal Tyler announced. He had been shot in the face, Lancaster Mayor R. Rex Parris, who was at the hospital, told the Los Angeles Times.
Owen was a 29-year veteran of the sheriff's department, and won the Medal of Valor in 2014. His wife is a detective with the LASD's arson unit.
"This always seems to happen to the most beloved deputies," Parris said.
The second injured deputy was not shot, but was wounded, Sheriff Jim McDonnell told reporters. The extent of his injuries is unclear.
"It was a roll-up burglary call. It was a simple call," McDonnell said. "We don't know if it was an ambush or anything."
A suspect is in custody with a gunshot wound.
Lancaster is located approximately 70 miles north of downtown Los Angeles, in the Antelope Valley of the Mojave Desert. It has an estimated population of 168,000.