Elderly man sues Texas cop for allegedly breaking his ribs in WalMart altercation (VIDEO)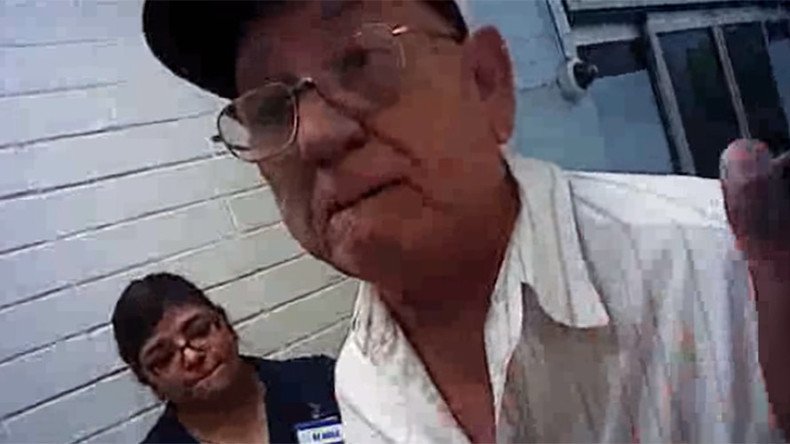 An elderly couple from Buda, Texas have filed a federal civil lawsuit against a police officer over a 2014 arrest in which a then-73-year-old man was allegedly pushed to the ground, sustaining several broken ribs.
Juan Martinez and his wife Guadalupe Martinez were 73 and 69, respectively, when they were both arrested at their local Wal-Mart on October 3, 2014, in an incident which escalated to a physical altercation with a local officer.
The incident was filmed on the cop's bodycam.
The couple, who both use mobility scooters, were shopping at the Old San Antonio Road store when they became separated, and the woman exited the store with unpurchased items still in her scooter's basket. Wal-Mart security then detained her on suspicion of shoplifting, leading her into an office for questioning.
The newly released bodycam footage shows Buda police officer Demerriel Young ask Juan to leave the office while his wife is being questioned. However, he refused, saying: "No sir, I'm not going to do that."
"I've done nothing wrong," he added.
"Okay either you're gonna step outside or I'm going to place you outside or I'm going to place you under arrest for interfering," Young warned, to which Juan replied: "Go ahead."
The video shows Young proceed to place his hands on the older man, who falls to the ground and lies there, apparently screaming in pain.
Young then stops Guadalupe from helping her prone husband and she accuses the officer of pushing him. "Have a seat, ma'am. I did not do anything," says Young.
"You pushed him," she responds.
Guadalupe was subsequently charged with theft while Juan was charged with interfering with the duties of a public servant. They are both reportedly due in court on October 17.
READ MORE: 'I can't breathe': Prison guards pepper-spray & pile on inmate with alleged heart disease (VIDEO)

The couple has now filed a lawsuit accusing the Buda officer of excessive force.
"Officer Young unnecessarily escalated the situation and used force excessive to the need," according to the lawsuit document. "Specifically, Officer Young tackled the elderly and disabled Martinez, failing to control the descent of Mr. Martinez and slammed him hard onto the floor."
Martinez lay on the floor for over five minutes before EMS arrived on the scene, according to the couple's lawyer Robert Ranco, and suffered several broken ribs as well as other injuries.
READ MORE: Charlotte police release bodycam footage of Keith Scott shooting (VIDEO)

The complaint names Officer Young, the city of Buda and Wal-Mart for excessive force, violating their rights, negligence and false imprisonment. As of Thursday, Buda Police, the city, and Wal-Mart said they had yet to be served with a complaint, reports KVUE.
You can share this story on social media: