'I can't breathe': Prison guards pepper-spray & pile on inmate with alleged heart disease (VIDEO)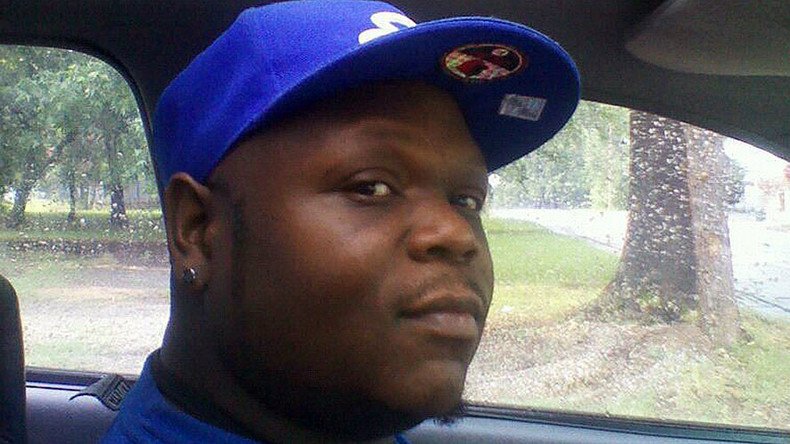 Footage has emerged showing US prison guards tackling and pepper-spraying an inmate who says he has pneumonia and cannot breathe. The man was found dead in his cell a day after the incident.
Michael Sabbie, 35, was arrested on a domestic assault charge on July 19, 2015 and placed into a Bi State Jail located on the border between Texas and Arkansas. Sabbie, who did not plead guilty to the charge, was found "unresponsive" and "cold to the touch" in his cell three days later, according to the Huffington Post.
Footage filmed by one of the prison guards, which depicts the last hours before his death, was published by the Huffington Post on Wednesday.
The moment Sabbie leans against the wall to catch his breath, a guard approaches him and throws him to the floor, and other guards soon arrive.
In the video, Sabbie insists he has trouble breathing and begs for help before he is shown lying on the floor with five prison guards piled on top of him.
"I can't breathe," Sabbie can be heard saying numerous times throughout the video. "Please, I can't breathe. I have pneumonia," the man says.
Ignoring his pleas, the guards continue holding him down, telling him not to resist. One then pepper-sprays Sabbie in the face, who says "I'm sorry," while the guards threaten to pepper-spray him again.
Several minutes later, the officers take Sabbie to the medical station, where, according to the Huffington Post, a nurse checked on his state.
Afterwards, the officers shower the man and drag him back to his cell, apparently thinking that Sabbie was faking his breathing problems. The following day, July 21 2015, Sabbie was found motionless in his cell.
Sabbie's death was branded "natural" by a medical examiner, who concluded that Sabbie died due to heart disease. However, since the video emerged, attorneys representing Sabbie's family have started questioning the circumstances surrounding Sabbie's death.
"If you just looked at the cause of death, you would think that Michael died of some sort of hypertensive heart condition, and that may be true," Erik J. Heipt, one of the attorneys representing the Sabbie family, told the Huffington Post. "But if we didn't have a video, we'd never know that he had been begging for help due to his shortness of breath and inability to breathe. We'd never know that he said 'I can't breathe' 19 times in the nine minutes that we hear in that video."
Bodycam shows police firing 18 bullets at SUV, killing 6yo autistic boy (GRAPHIC VIDEO)
The video is "without a doubt among one of the most outrageous," Edwin Budge, Heipt's law partner said.
"Clearly he's a person in a state of medical crisis, in medical need, asking for help, and the response to his essentially pleas for medical help is inhumane, which is a term I don't use lightly," Budge said.
"He was treated as if his life did not matter," the family also said in a statement issued through their lawyers. "Most of all, they want justice and accountability and to make sure that this doesn't happen again."
According to the Huffington Post, the Department of Justice told Sabbie's wife in August that it would not prosecute any of the officers in connection with her husband's death, concluding "the evidence does not establish a prosecutable violation of the federal criminal civil rights statutes."
You can share this story on social media: