Bodycam shows police firing 18 bullets at SUV, killing 6yo autistic boy (GRAPHIC VIDEO)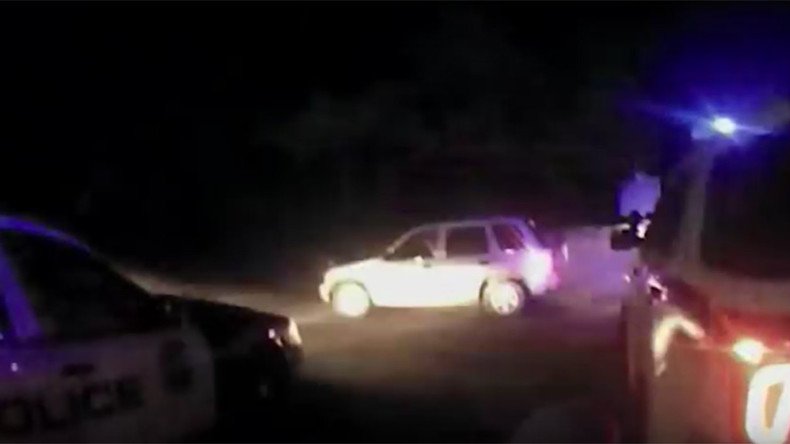 Footage of a Louisiana police chase that ended with the fatal shooting of a 6-year-old autistic boy has been released at the pre-trial hearing of two officers charged with his death.
Jeremy Mardis was in the passenger seat of a car driven by his father which became involved in a police chase in the town of Marksville on November 3, 2015.
Mardis was killed and his father Chris Few seriously wounded when police pursuing the vehicle fired at least 18 shots at the SUV, WAFB reports. Initial reports from local investigators suggested the boy's father was the subject of an outstanding police warrant, however authorities have been unable to find any such warrants.
Deputies Derrick Stafford, 32, and Norris Greenhouse Jr, 23, face charges of second-degree murder over the killing of the young boy and attempted second-degree murder for wounding Few, who was unarmed.
Attorneys for the pair, who will face separate trials, argue the officers were acting in self defense after Few allegedly rammed a police car, CBS News report.
Footage, taken from the bodycam of an officer responding to the incident, has now been released as part of a case against Stafford and Greenhouse Jr. The clip does not show the full pursuit and comes from the bodycam of Sgt Kenneth Parnell who did not fire his weapon, a court heard on Wednesday.
A judge had originally barred the controversial footage from being seen by the public, but the footage was later released after being shown at the pre-trial hearing.
WARNING: GRAPHIC VIDEO
Audio from the edited video does not kick in until the shooting is already underway. It shows Sgt Parnell approaching the SUV with his gun drawn, before backing off and moving behind two police vehicles.
Few can be seen with his hands out the window of the vehicle, as a number of shots ring out. Later, the video shows him slumped out of the car window and bleeding.
The moment officers holding flashlights discovered the 6-year-old boy buckled in the passenger seat is also caught on camera, with one man apparently shocked at their finding. "They got more than one subject in there too, they know that right? On the passenger side," one officer says.
Stafford is expected to face trial on November 28, while Greenhouse will appear before a jury on March 13, 2017.
You can share this story on social media: