'Hurricane Matthew will kill you & your kids': Fox News anchor issues dire warning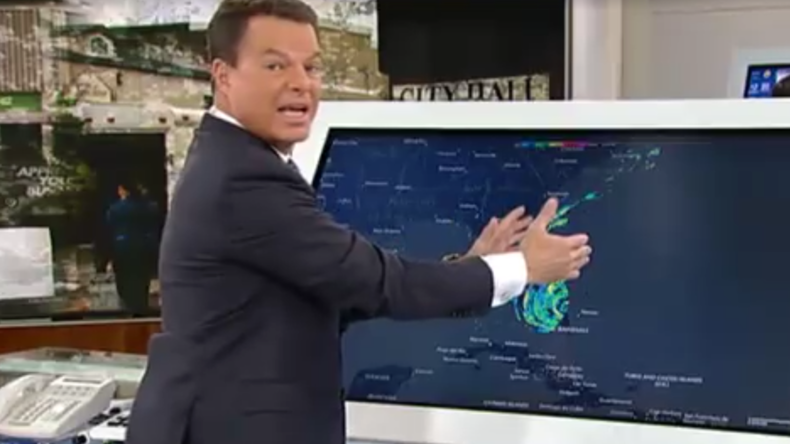 Fox News anchor Shep Smith summed up the severity of Hurricane Matthew in no uncertain terms during a broadcast Thursday, warning people to evacuate or die.
The TV anchor was pulling no punches as he delivered a morbid message: "This storm will kill you, it will kill your children, it will kill your pets and everyone you know who wants to mess with it unless you get lucky."
"This moves 20 miles to the west and you and everyone you know are dead, all of you because you can't survive it, it's not possible unless you're very very lucky and your kids die too," he continued.
Smith pointed to a map of Florida and reiterated that luck was the only thing that could save those who don't evacuate.
The anchor also asked viewers to take his weekend plans into consideration, urging viewers not to ruin them by "perishing" in the storm as he has a family wedding to attend and doesn't want to be called into work.
"If you're supposed to get out go ahead and get out because if too many of you perish they'll send me down there and I need to go to this wedding," he said.
Hurricane Matthew has been downgraded to a category 3 storm by the National Hurricane Center as it gains ground on Florida. States of emergency have been declared in Florida, Georgia, North Carolina and South Carolina, and evacuation orders issued with more than 11 million people living within its projected path.
READ MORE: Southeastern US braces for Cat. 4 Hurricane Matthew (VIDEO)
It has already struck the Caribbean, leaving more than 300 dead in Haiti.
The National Hurricane Center said at 7 a.m. local time that the western edge of Matthew's eyewall (the area where the storm is strongest) was 35 miles (56km) east of Cape Canaveral, with top sustained winds of 120mph (192mph). The center of the storm was heading for Florida at 14 mph.
Shep Smith also spoke with a woman in Florida who had decided not to evacuate, telling the camera before the conversation that "I'll ask her why she's staying, and if she expects us to cover her funeral."
Smith who was born in Mississippi visited New Orleans in August 2005 to report on the aftermath of Hurricane Katrina. He revisisted his experiences of the deadly hurricane in the news segment on Matthew: "They turn trees into missiles. I've lived it and it is hell."
He warned anyone left will "die a violent death"."If they've warned you to evacuate do it now or risk death on a freeway and a traffic jam from hell later," he added. "Maybe Florida will get lucky, it's a very big 'maybe' to take."
Smith was echoing the words of Florida governor Rick Scott who urged people not to risk their lives and to obey evacuation orders. The Weather Channel has also urged people to realize the magnitude of the situation, explaining forecasts and warnings are "not hype or hyperbole".
However, not everyone believes the official warnings. Drudge Report founder Matt Drudge took to Twitter to suggest the government was exaggerating the intensity of the storm to make a point on climate change.
The deplorables are starting to wonder if govt has been lying to them about Hurricane Matthew intensity to make exaggerated point on climate

— MATT DRUDGE (@DRUDGE) October 6, 2016
Hurricane Center has monopoly on data. No way of verifying claims. Nassau ground observations DID NOT match statements! 165mph gusts? WHERE?

— MATT DRUDGE (@DRUDGE) October 6, 2016
"This will get deadly in the next couple of hours."
(Couple of hours go by)
"Well, we dodged a bullet with this one!"#HurricaneMatthew

— Anthony Cumia (@AnthonyCumia) October 7, 2016
Drudge's comments were met with a backlash from meteorologists who accused him of politicizing the crisis.
Amen. Please do not politicize weather. Meteorologists are making forecasts. No one has an agenda. This is beyond despicable & insulting. https://t.co/vB7VavM0XX

— Matt Lanza (@mattlanza) October 6, 2016
READ MORE: Fox News tells children to charge and disarm active shooters