Fox News tells children to charge and disarm active shooters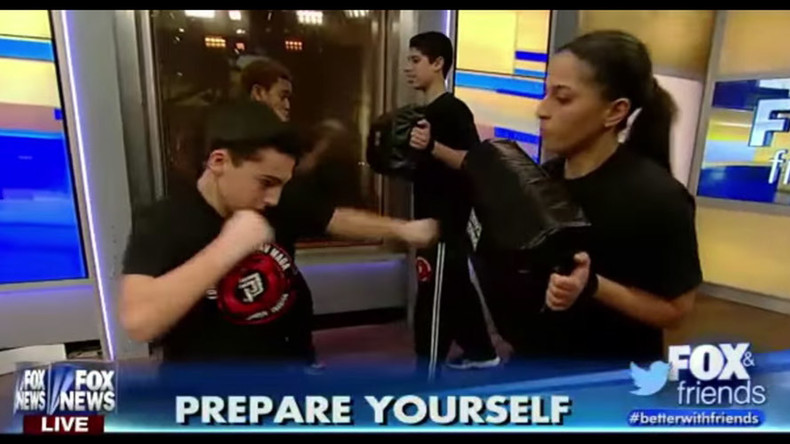 Fox News has defied reason and official federal guidelines to tell children they should confront a gunman in an active shooter situation.
Fox and Friends, hosted by Elisabeth Hasselbeck, included a segment on Tuesday that showed children how they could stop a gunman.
"In an active shooter situation, five seconds can mean the difference between life and death, but there are some things that you can do, and your children can do, to make a difference," Hasselbeck began the segment by saying.
Two Krav Maga self-defense instructors and three of their students – children – joined her for the demonstration. They showed how a gunman could be disarmed with an attack from behind, but didn't explain that this should be used as a last resort.
Additionally, it was never pointed out that people should prioritize evacuation and hiding as preferable options.
"Once you engage the gunman you have to take him out, you have to fight strong, you're not going to try get away until you have done some damage to him," the Krav Maga instructor Tony Morrison told viewers.
He explained that if "you don't, he'll just pursue you; once you engage the gunman you have to completely engage him 'til he's subdued."
The segment, entitled "Caught in the chaos: How to teach your kids to fight back," was called out by progressive watchdog Media Matters and sparked outrage on Twitter, with people expressing shock at the advice.
@mmfa The shooter will not just stand there, like in the scenario, & let himself get beaten by children. He'll fight back & he has a gun!

— Rose Owen (@RosalindaGOwen) December 8, 2015
The Department of Homeland Security (DHS) has specific guidelines on how to act in an active shooter situation. It says the first objective should be to evacuate, and if this is not possible then it is best to hide.
READ: DHS guidelines in active shooter situation
If neither of these options are possible, then the advice is to remain calm and dial 911 to alert police to your location. Even if you cannot speak, DHS says to leave the line open and allow the dispatcher to listen.
The DHS only recommends action against an active shooter "as a last resort," and when your life is in imminent danger.