'Criminal enterprise': Congress grills Wells Fargo CEO, bank fined $20mn over soldiers' loans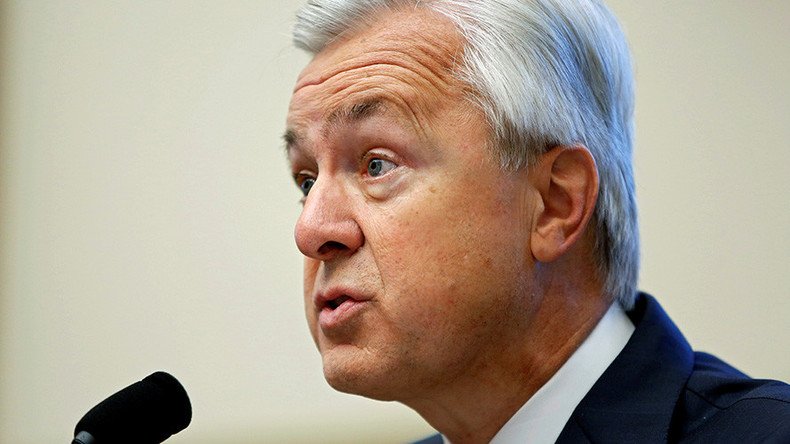 Lawmakers on Capitol Hill have accused Wells Fargo's CEO of running a "criminal enterprise" as the bank faces a new $20 million fine for soldiers' car loans and financially harming military families.
Wells Fargo CEO & Chair John Stumpf appeared before the House Financial Services Committee in what turned into more than four hours of hostile questioning.
Opening the hearing, Stumpf said he was "deeply sorry" for "unethical sales practices" and for failing to fulfill "responsibility to our customers, to our team members, and to the American public."
"I am fully accountable," Stumpf said. "I'm fully committed to fixing this issue, strengthening our culture, and taking the necessary steps and actions to restore our customer's trust," he added.
However, Stumpf's apology failed to ease tensions on Capitol Hill, where he withstood bipartisan bashing for a second time.
Lawmakers did not hold back their harsh words, and passions ran high in the chamber.
Representative Gregory Meeks (D-New York) equated Wells Fargo to a "criminal enterprise" while dodging any accountability.
"Your bank, you, CEO, Chairman, for me was on top of what's basically been a criminal enterprise because when I look at consistency, time after time after time and time again, you had to get fined," Meeks said. "That must mean you are making a lot of money because it is easier to pay the fine. Because you know that nothing else is going happen to you. You pay the fine, you get away, you make a lot of money."
Meeks also accused the Wells Fargo CEO of blackening the entire financial services industry.
"Do you realize that you have not only given will you admit this? ‒ That not only your bank has a black eye, that your bank, Wells Fargo, has given the entire financial service industry a black eye, your responsibility?" the New York congressman said.
Rep. Michael Capuano (D-Massachusetts) said that the San Francisco, California-based bank and its account schemes reminded him of Enron, once a successful energy company that along with Arthur Andersen, an accounting firm, was involved in one of the world's biggest corporation scandals.
"You know when I heard that before? The guys who ran Enron. The guys who ran Arthur Anderson said the same thing," Capuano said. "We're not your problem. We can't criminally prosecute you."
READ MORE: Employees, customers blew whistle over Wells Fargo fraudulent bank accounts years ago – reports
Capuano, who still – ironically ‒ praised Stumpf for bringing cross-party unity "for the first time in the last four years," went on to threaten him with gruesome consequences.
"Your problem is coming. It's not today. You think today's tough. It's coming when the prosecutors get a hold of you, you're going to have a lot of fun," he said.
The lawmaker also brought up a suspected bank robber, Robert Holmes, asking Stumpf what makes him different from the recently arrested man.
Wells Fargo's fines pile up as probe against it widens
As Stumpf defended his wrongdoings in Congress, the Office of the Comptroller of the Currency (OCC) issued a statement announcing an additional penalty of $20 million. It would add to $185 million in fines that Wells Fargo already agreed to pay for opening about 2 million accounts without customer authorization.
"The Office of the Comptroller of the Currency (OCC) today assessed a $20 million civil money penalty against Wells Fargo Bank, N.A., and ordered the bank to make restitution to servicemembers who were harmed by the bank's violations of the Servicemembers Civil Relief Act (SCRA)," the press release reads.
The new fine is stemming from Wells Fargo's repetitive violations of the act's three separate provisions between approximately 2006 and 2016.
The OCC found that in the past decade, the bank failed to provide the 6 percent interest rate limit to servicemember obligations or liabilities incurred before military service.
Wells Fargo is suspected of failing to accurately disclose servicemembers' active duty status to the court via affidavits prior to evicting those servicemembers. Finally, the bank did not obtain court orders prior to repossessing soldiers' cars.
The Justice Department alleged on Thursday that Wells Fargo repossessed 413 cars owned by servicemembers without obtaining a court order. The bank agreed to pay more than $4.1 million.
You can share this story on social media: