Prison paradox: Texas jail authorities ban 15,000 books… but allow Hitler's 'Mein Kampf'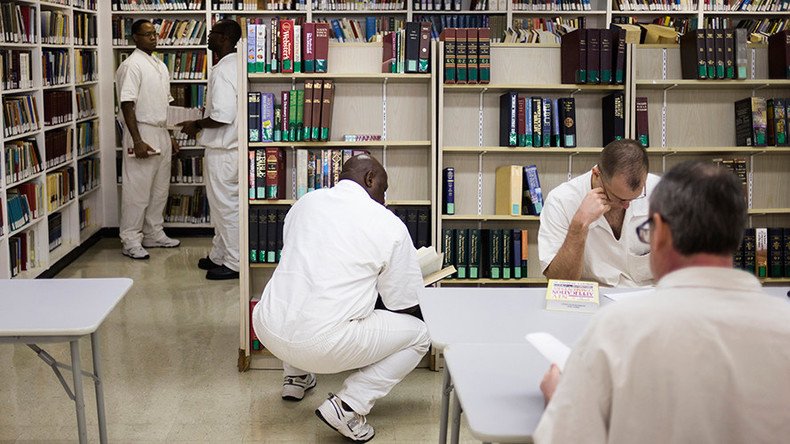 The 140,000 inmates in Texas state prisons are reportedly denied access to some 15,000 books banned by the authorities – but it seem convicts can still easily get hold of a copy of Adolf Hitler's racist diatribe 'Mein Kampf'.
As the US holds its annual 'Banned Books Week' campaign – an event celebrating the freedom to read – attention has been drawn to the list of the books that Texas authorities have banned in state prisons. Paul Wright, executive director of the Human Rights Defense Center and editor of Prison Legal News, told the Guardian that about 15,000 books were banned by the Texas Department of Criminal Justice (TDJC).
One of latest books banned from Texas state prisons is Dan Slater's 'Wolf Boys: Two American Teenagers and Mexico's Most Dangerous Drug Cartel'.
The furious author wrote in Slate about his attempt to send a copy of his new nonfiction book to Gabriel Cardona, who is actually one of the book's characters, and is currently behind bars in Texas. However, the TDJC prohibited the delivery, with spokesman Jason Clark saying the book gives data about "criminal schemes," seemingly referring to an episode where a drug smuggler shares tips on how to hide narcotics in a pickup truck.
Nevertheless, "[the] TDCJ permits prisoners to read many of the most racist books ever written, including Adolph Hitler's 'Mein Kampf' and David Duke's 'My Awakening'," he wrote.
Wright says that when a book goes on the list, it never comes off.
Slater, meanwhile, told the Guardian that the system is "aggressive and arbitrary."
He notes, for instance, that many books containing prison rape are prohibited, but not Stephen King's 'Rita Hayworth and the Shawshank Redemption', which has an episode in which a prisoner is sexually assaulted.
Also, many books with containing the word 'n****r' made it to the 'black list', among them books by such prominent, award-winning authors as Langston Hughes, Noam Chomsky, Philip Roth, and Salman Rushdie – but Hitler's anti-Semitic rant and Duke's 'My Awakenings' (branded a "minor-league Mein Kampf" by some) weren't banned.
In 2011, a report by the Texas Civil Rights Project indicated that books can be banned from local prison facilities for six reasons, among them "sexually explicit images," encouragement of "deviant criminal sexual behavior," and information on "criminal schemes."
You can share this story on social media: