Dakota pipeline company buys land thought to be site of destroyed cultural artifacts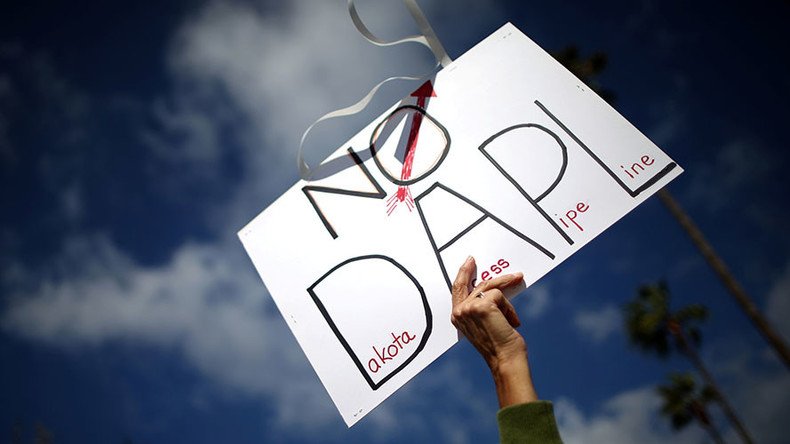 Energy Transfer Partners, developer of the controversial Dakota Access oil pipeline, has purchased the 7,000-acre ranch that tribal officials say is the site of burial and cultural artifacts destroyed by pipeline crews.
The purchase of land near Cannonball, North Dakota, was made last week for an undisclosed amount, according to the Associated Press. Now, North Dakota Attorney General Wayne Stenehjem has given the company 30 days to outline how the land will be used.
By state law, corporations like Energy Transfer Partners are generally barred from owning agricultural land that is not controlled by a farming family, AP reported. The company will be required to describe how its purchase is in accordance with state law.
Standing Rock Sioux tribe officials said in early September that construction crews had bulldozed several areas of "significant cultural and historic value" on the southern North Dakota ranch. The tribe requested a temporary injunction to halt construction, yet a federal judge denied the request. The tribe is leading attempts to halt the pipeline's construction across the Missouri River due to potential defilement of tribal heritage sites and pollution of the tribe's drinking water sources.
In a lawsuit filed in August, the tribe claimed the US Army Corps of Engineers fast-tracked approval for the pipeline without properly consulting them. They argued in court filings that the project violated several federal laws, including the National Historic Preservation Act, and will harm water supplies. Protests of the pipeline have garnered support from many native tribes and beyond that have led to violent clashes between protesters and private security guards hired by the company.
"This demolition is devastating," Standing Rock Sioux Chairman David Archambault II has said about the destroyed artifacts, according to AP. "These grounds are the resting places of our ancestors. The ancient cairns and stone prayer rings there cannot be replaced. In one day, our sacred land has been turned into hollow ground."
Energy Transfer Partners has denied that damage was done to the alleged tribal heritage site, and their case may be bolstered by an ongoing investigation of the sites by North Dakota state archaeologists.
On Wednesday, a draft memo was leaked to the Associated Press indicating that the state's chief archaeologist and others had inspected the site, now owned by Energy Transfer Partners, where tribal officials say artifacts and burials were demolished. In the memo, called a "first draft of an internal summary" by a state Historical Society spokesperson, chief archaeologist Paul Picha said only animal remains had been found during a survey last week.
Picha did not return AP's requests for comment, and the state, as well as the Morton County Sheriff's Department, which is investigating a September 3 confrontation at the site, have declined to release the memo.
In court documents, tribal preservation officer Tim Mentz said the tribe was just recently allowed to survey the private land in question. Now, Energy Transfer Partners owns it.
Last week, about 1,300 archeologists, museum directors, and historians called on the Obama administration to ensure that the ancient burial site is protected.
"The destruction of these sacred sites adds yet another injury to the Lakota, Dakota, and other Indigenous Peoples who bear the impacts of fossil fuel extraction and transportation," the letter says. "If constructed, this pipeline will continue to encourage oil consumption that causes climate change, all the while harming those populations who contributed little to this crisis."
The completed 1,172-mile pipeline, being built by Dakota Access LLC, is planned to travel across four states and is expected to carry nearly half-million barrels of crude oil daily from the Bakken oil fields in North Dakota. The pipeline would travel through North and South Dakota, under the Missouri River, through Iowa to an existing pipeline in Illinois. The company plans to complete the project this year, and has argued in court filings that a construction stoppage would cost $1.4 billion in lost revenue over the first year.
Demonstrators at the construction sites have maintained a strong presence, conducting direct actions at two sites in Morton County on Wednesday, according to Indian Country Today Media Network.
"Although a line of about fifty police officers from various jurisdictions moved toward the protectors, we held our space," said Mark K. Tilsen Jr. of the Oglala Lakota tribe who participated in the action.
Meanwhile, in Washington, the Obama administration has announced major payoffs to native tribes and communities in recent days amid the Eighth Annual White House Tribal Nations Conference.
The administration said Tuesday that it will pay 17 Native American tribes a total of $492.8 million to settle long-standing disputes over mismanagement of tribal lands by the US Department of the Interior, while the US Department of Justice announced it is offering native groups more than $107 million in grants to improve public safety and services for tribal communities.
You can share this story on social media: