Sanders calls for change in energy system at Dakota pipeline protest in DC (RT EXCLUSIVE)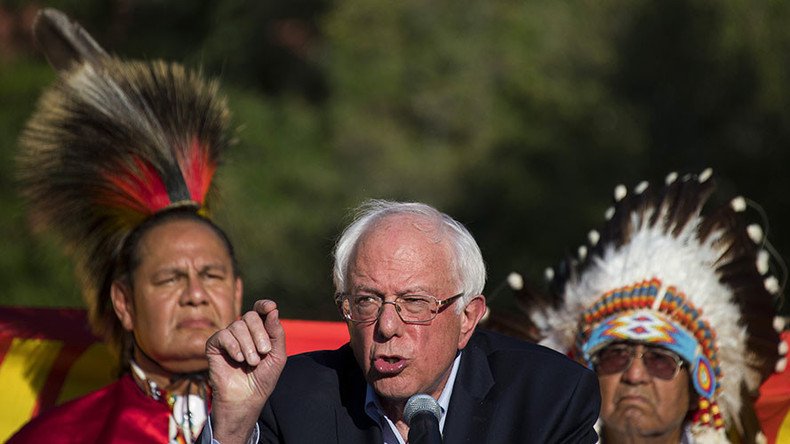 Bernie Sanders has called for US authorities to change the energy system and not build more pipelines at a Dakota Access protest outside the White House. He added that the rally raises an issue that is getting more support across the US.
"I think this is an issue that is gaining more and more support all over the country. It is the issue of climate change, the need to change our energy system and not build more pipelines," Sanders told RT America's host and political commentator Ed Schultz. Sanders and Schultz were speaking at the protest against the Dakota Access oil pipeline outside the White House.
According to Sanders, the protest is also "the issue of standing with the people who have been exploited" and "whose treaty rights have been abrogated for years."
"And I think we have got a shot at this and I am going to do everything I can," he added.
READ MORE: Police arrest 22 after 'swarm' at Dakota pipeline construction site (VIDEO)
Sanders joined the hundreds of people who gathered in DC to voice their opposition to the Dakota Access pipeline, which is planned to move crude oil through four states from North Dakota to Illinois.
"This pipeline must be stopped!" Sanders shouted to the crowd of protesters, "Stop the pipeline, respect Native American rights and let us move forward to transform our energy systems away from fossil fuels."
Sanders also called upon President Obama to "ensure that this pipeline gets a full environmental and cultural impact analysis."
The Standing Rock Sioux Tribe has filed a lawsuit against the Army Corps of Engineers' decision to grant about 200 permits at water crossings for the pipeline. The federal government has issued a temporary halt to construction on Army Corps land around and underneath Lake Oahe, one of six reservoirs on the Missouri River. Three federal agencies also asked Energy Transfer Partners for a "voluntary pause" in work for 20 miles on either side of Lake Oahe.
The $3.8 billion Dakota Access pipeline is being developed by Energy Transfer Partners. The pipeline would transport nearly half a million barrels of crude oil daily from North Dakota's oil fields through South Dakota and Iowa to an existing pipeline in Illinois.
You can share this story on social media: