Obama administration to pay $500mn settlement to Native American tribes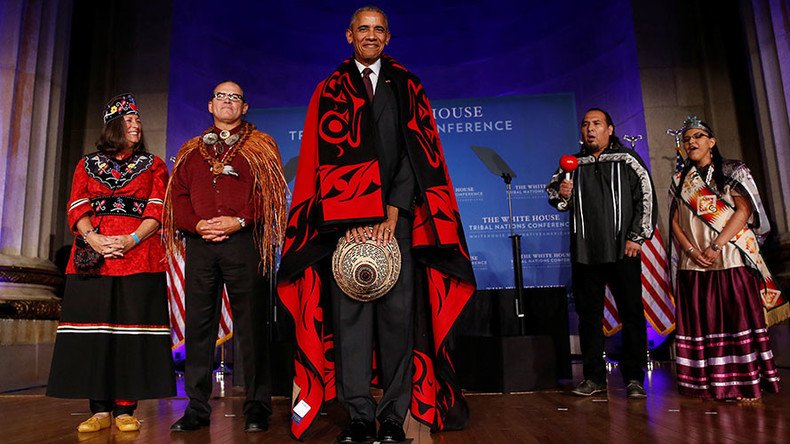 Washington will pay 17 Native American tribes a total of $492.8 million to settle long-standing disputes over mismanagement of tribal lands by the Department of the Interior. The settlement comes amid ongoing protests over the Dakota Access Pipeline.
Federal authorities manage almost 100,000 leases on nearly 56 million acres of trust lands on behalf of Native American tribes, including oil and gas extraction rights, timber harvesting, grazing, farming and housing. Additionally, the government manages about 2,500 trust accounts for more than 250 tribes. More than 100 tribes have sued the government, claiming the government mismanaged their lands and money.
"This is an important achievement that will end, honorably and fairly, decades of contention that not only sapped valuable resources but also strained relationships," said Deputy Attorney General Sally Q. Yates, addressing the annual White House Tribal Nations Conference in Washington, DC on Monday.
Since 2009, the Obama administration has settled the claims of 90 federally recognized tribes and is looking to settle 11 more tribal claims for a grand total of $3.3 billion, Yates added.
Among the affected tribes are Gila River, Colorado River and San Carlos Apache in Arizona; the White Earth Nation in Minnesota; and the Cayuse, Umatilla, and Walla Walla people in Oregon.
President Barack Obama made a promise during his electoral campaign in 2008 that he would host an annual summit with tribal leaders to ensure that Native Americans could participate in important decisions affecting their communities.
"We haven't solved every issue. We haven't righted every wrong. But together, we've made significant progress in almost every area," Obama told the eighth annual Tribal Nations Conference on Monday.
No mention was made of the ongoing protests of thousands of Native American activists against the proposed Dakota Access Pipeline (DAP), which the Standing Rock Sioux Nation in South Dakota says would threaten the tribe's water supply and sacred burial grounds.
Earlier this month, a federal judge in Washington, DC rejected the motion by the Standing Rock Nation to halt the construction on the DAP. However, the Obama administration instructed the Army Corps of Engineers to pause construction work near Lake Oahe until the government could reexamine its previous decisions on the matter.
Protesters continue to clash with security contractors working for Energy Transfer Partners, the private company behind the DAP that intends to proceed with construction. If completed, the 1,172-mile pipeline would traverse four states and is expected to carry nearly half a million barrels of crude oil a day from North Dakota's Bakken oil fields to an existing pipeline in Illinois.
You can share this story on social media: