Skittles image from Trump Jnr's refugee tweet deleted over copyright (PICTURE)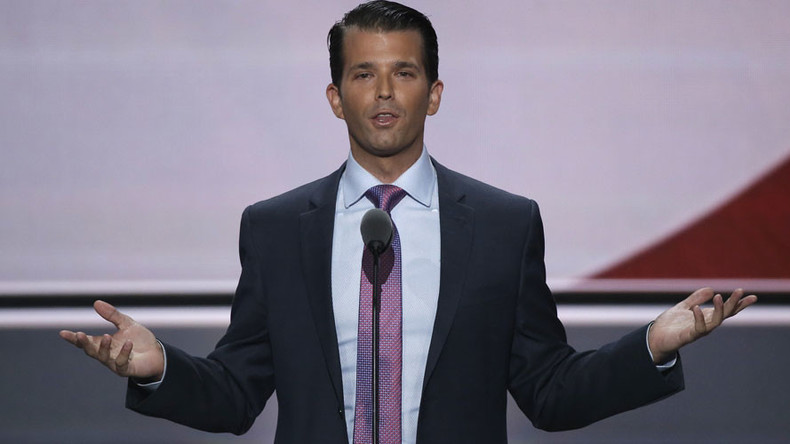 A photograph accompanying Donald Trump Jnr's controversial tweet comparing Syrian refugees to lethal Skittles has been deleted from Twitter due to a copyright claim by the photographer.
Trump Jnr caused a furore on the social media platform when he sent out the tweet on September 20. "This image says it all. Let's end the politically correct agenda that doesn't put America first. #trump2016," it read.
The accompanying graphic showed a photo of a white bowl full of Skittles with the question, "If I had a bowl of Skittles and I told you just three would kill you. Would you take a handful? That's our Syrian refugee problem."
The message sparked a huge backlash - and then a counter-backlash - on Twitter and quickly became the site's top trending item.
Skittles parent company Mars, Inc issued a strong response, saying: "Skittles are candy. Refugees are people. It's an inappropriate analogy."
It emerged that the picture of the bowl of sweets was taken by David Kittos, who left Cyprus as a refugee when he was just six years old. Kittos quickly took action against Trump Jnr's use of his image and filed a copyright claim.
"The image of a bowl of skittles is mine and has always been set as 'ALL RIGHTS RESERVED' in my flickr library. It was copied and is being used WITHOUT my permission. I have never been contacted by Donald Trump Jr or any representative about the image, before of [sic] after it was used in the Tweet," the complaint read.
Twitter's copyright policy allows photographers to ask that their images be removed if they feel they are being misused. The photo has now been taken down and now in its place is a message saying it has been removed following a "report from the copyright holder".
Kittos told the BBC: "I am very glad it's down, and it shouldn't have been up in the first place." He added he is retaining a lawyer over the matter.