Calls to shut down NY's notorious Rikers Island prison grow louder (VIDEO, PHOTOS)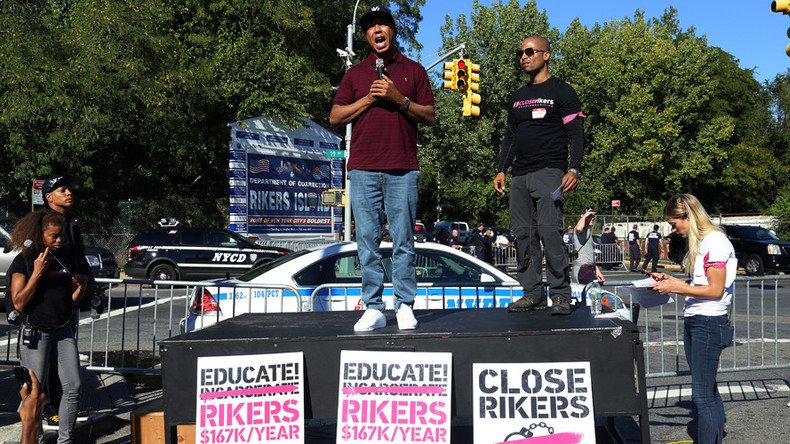 Hundreds of activists marched through New York City calling for the scandal-plagued Rikers Island prison to be shut down over the inhumane treatment of its inmates.
The protesters marched through Queens on Saturday, denouncing the deteriorating conditions at the facility. There were claims of arbitrary and brutal solitary confinement conditions and rampant sexual assaults at the prison, as well as the conditions of mentally-ill inmates being described as appalling.
"It's a six-by-nine-foot cell," former inmate Johnny Perez, 37, said of the facility's solitary confinement. "People have died from heat exhaustion. It gets so cold that it's hard for you to sleep because you have limited blankets and clothes."
"For decades, the notorious Rikers Island Jail Complex has been marked by violence and corruption and impervious to substantive reform," read a Facebook event for the march.
The organizers of the #CLOSErikers rally said they want a "more humane and smaller" city jail system.
Darren Mack, who is now part of the JustLeadershipUSA initiative, was incarcerated on Rikers Island in the early 1990s and has famously called it the "Abu Ghraib of New York City."
He said earlier this year the jail "should be closed immediately to send a message to Americans to let them know that we can't have torture chambers" in this country.
READ MORE: Rikers prison gets $1.2mn military weapons upgrade, incl. Tasers, Kel-Tec shotguns
Five former correctional officers at the facility were sentenced to state prison earlier this month for their role in the beating of an inmate in 2012.
Protesters ended their march near the bridge leading from Queens to the Rikers Island entrance where they shared horror stories about the conditions at the detention center.
You can share this story on social media: