Charlotte protesters march on highway in 4th night of demonstrations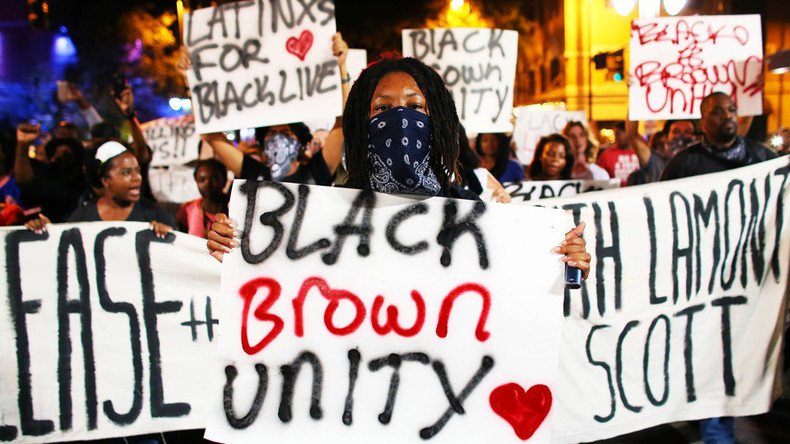 In their fourth night of protest, Charlotte demonstrators, demanding the release of police tapes of the fatal shooting of Keith Scott, made their way onto Interstate-277, shutting down the highway.
After a few minutes on and near the highway, protesters left, chanting, "The people united will never be defeated" and "We young, we strong, we marching all night long." The protesters also marched behind banners, one of which read, "Release the tapes."
They also passed the Charlotte Jail Central, where prisoners flicked lights off and on. "We see you, we love you," protesters chanted in response.
The rally remained peaceful and the police did not enforce a curfew this night as several hundred protesters marched the streets
CMPD warning about 75 remaining protesters that we are about to begin enforcing curfew.

— CMPD News (@CMPD) September 24, 2016
The people in Charlotte are demanding the release of police footage of the fatal shooting of Keith Scott, a black 43-year-old man. He is the latest person of color whose death at the hands of police sparked massive protests in the United States.
Charlotte Mayor Jennifer Roberts and many public figures joined the call of the protesters for the release of the footage.
North Carolina's State Bureau of Investigation has released a statement confirming the police department's authority to release its video of the fatal incident.
READ MORE: 'He doesn't have a gun!' Keith Scott's wife yells before he's shot, her video shows (VIDEO)

Local police have maintained that they will not release the footage while an investigation is ongoing, but said they would eventually do so.
Scott's family and the police have different versions of what exactly happened. The police said he was armed while the family denied this. The footage of the incident, which was shown to the family and some officials, was described as inconclusive by them.
A video, released by the Scott family to US media outlets, captures the sound of the altercation. Scott's wife can be heard shouting "Keith, Keith, don't do it," and telling the police that her husband had just taken "his medicine" for a traumatic brain injury.
It was not clear from the video whether police heard the wife and whether her call not to "do it" was addressed to Scott or to the officers.
You can share this story on social media: