'I am not down with TPP': Hillary Clinton grilled on Between Two Ferns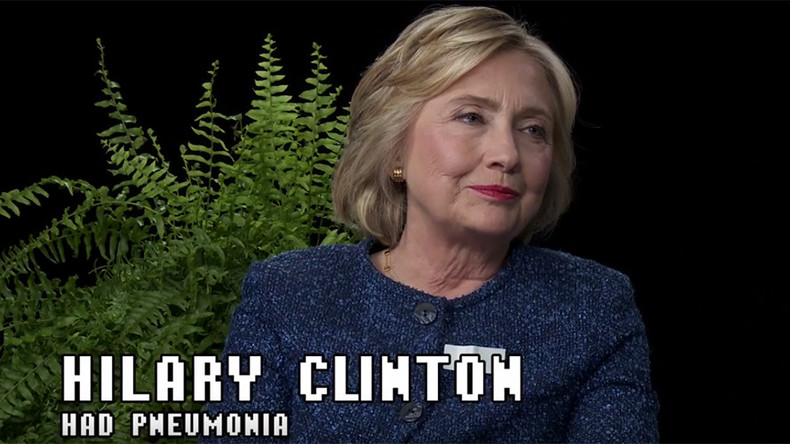 She may have been down with pneumonia, but Clinton denied being down with TPP when Between Two Ferns host Zach Galifianakis grilled her on her past support. She maintained that she has no love for the global trade deal.
In another attempt to show her playful side, Clinton appeared on the mock celebrity interview show posted by comedy site Funny or Die on Thursday. Host Zach Galifianakis peppered her with questions from the inane to the insane.
But first he crept up on the pneumonia-stricken candidate dressed as the Grim Reaper.
Once the Secret Service finished tackling him, they got down to business.
"I'm not down with TPP," she responded, ignoring the obvious Naughty by Nature reference. A long pause ensued, broken by Galifianakis quietly telling her, "No, you're supposed to say 'Yeah, you know me.'"
"Don't tell me what to say," she responded deadpan.
"Fine, lose," Galifianakis shot back.
Clinton's views on the Trans-Pacific Partnership were initially positive, claiming that she hoped it would "create a new high standard for multilateral free trade."
But after she began meeting with labor unions, her views on the TPP began to shift. "Any trade deal has to produce jobs and raise wages and increase prosperity and protect our security," Clinton told reporters in New Hampshire in April 2015.
By October 2015, she was already distancing herself from the trade deal and told PBS she did not "believe it's going to meet the high bar I have set for creating jobs and advancing national security" and also expressed concerns that it would be used to benefit pharmaceutical companies more than their own patients.
In February, she had finally moved into firmly being opposed to the TPP, saying in a debate that she had hoped the deal would meet her standards but the finalized version did not.
However, on Wednesday her husband, Bill, suggested that the deal was in the nation's best foreign policy interests but did not endorse the plan in an interview with CNBC.
Instead of asking her about the scandal over her use of a private email server while secretary of state, his first query was: "Are you excited to be the first girl president?"
It was reminiscent of the irreverent question he asked President Barack Obama during his 2014 'Between Two Ferns' appearance: "What is it like to be the last black president?"
She did use the politically correct, non-sexist term "woman" when answering, however.
"What happens if you become pregnant?" the comedian asked with a straight face. "Are we going to be stuck with Tim Kaine for nine months? How does this work?"
Clinton, who became a grandmother for the second time in June, promised to send Galifianakis "some pamphlets that might help you understand…" She didn't go so far as to recommend that he watch the Wednesday night premiere of ABC's Designated Survivor, though.
They of course discussed the hard-hitting policy topics, like what Republican nominee Donald Trump might be wearing, nodding at his seeming preference for white ties.
Not all of the questions were a dig at the bigotry that seems to be present in the presidential race ‒ or the coverage of it. Some did relate to real political topics.
"First you supported Obama's Trans-Pacific Partnership deal, and then you were against it," Galifianakis said. "I think that people deserve to know: Are you down with TPP?"
Clinton is apparently not a big Naughty By Nature fan, FYI, nor is she down with TPP.
The New York Times described the interview as "a weirdfest," but Scott Aukerman, who produces the show and directed the episode with Mrs. Clinton, said that Between Two Ferns is supposed to be a roast of the guest.
Seriously these posts. You don't know what Between Two Ferns is if you think this is serious or mean to HRC. This is awesome

— skittles galore (@redsnoopystock) September 22, 2016
Neither Aukerman nor Galifianakis approached Clinton about appearing on the show; instead, she approached them.
"She really set us at ease early on by being so game to do it, and one of the first few jokes she laughed really loud at, so we had to reset," Aukerman told the NY Times, adding that the material was "95 percent improvised."
The joke that had Clinton in stitches? Well, it started when she was interrupted mid-answer about the economy by a Trump ad.
"Why would you play a commercial from my opponent in the middle of our interview?" she asked.
"He paid me in steaks," Galifianakis replied. (Trump Steaks was one of the businessman's failed business ventures.)
Throughout the interview, Clinton played the straight woman to Galifianakis' funny man, with wry answers delivered in deadpan. Although she's tried hard to appear approachable, other comedians have found her boring and hard to make fun of, compared to Trump's gaffe-a-minute campaign.
"You know, I do make more jokes about Donald Trump than Hillary Clinton," late-night host Jimmy Kimmel told his audience Wednesday night. "There's no question about it, but that's just because Hillary Clinton is boring."
The Between Two Ferns interview took place days after Kimmel's competition, Jimmy Fallon, took heat for appearing too lovey during Trump's appearance on The Tonight Show.
In the end, Galifianakis and Clinton promised to stay in touch via email.