Police release shocking footage of toddler trying to revive mother after drug overdose (VIDEO)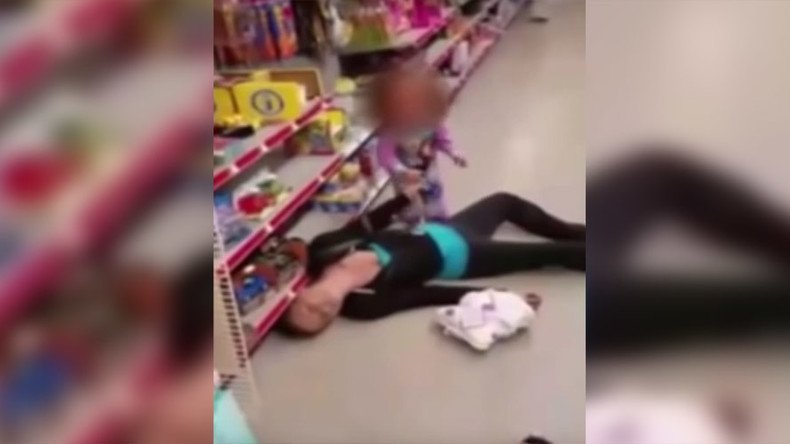 Police in Lawrence, Massachusetts have released heartbreaking footage of a toddler trying to awaken her mother after she passed out from an apparent drug overdose in the toy aisle of a discount store.
The woman from Salem, New Hampshire, whose name has not been released, is expected to be charged with child endangerment by the end of the week, according to Lawrence police.
The shocking video shows the young mother stretched out on the floor as her two year old daughter cries continuously and tries to pull her parent up off the ground.
Shocked bystanders called 911 and recorded the little girl's desperate pleas.
Police say they decided to release the harrowing video as a wake up call to others on the dangers of addiction.
"It's heartbreaking. This is definitely evidence that shows what addiction can do to someone and what happens when they use these types of narcotics," Lawrence Police Chief James Fitzpatrick said, as reported by NECN.
Police said the woman was revived with opiate antidote Narcan and taken to hospital while the child was placed in "emergency custody" by the Department of Children and Families.
It's believed the woman overdosed on an oral version of heroin or an opiate-based narcotic like fentanyl based on the drug paraphernalia and residue found in her bag.
Child endangerment charges will be filed on the basis that the woman was so intoxicated by the drug that she couldn't take care of the child, and the video clip will be included in evidence.
Fitzpatrick said he does not support public shaming of addicts but said such videos might serve as a lesson for the public.
"I could see that there's a value in the fact that people can see how debilitating and what this addiction causes," he said.
Earlier this month, police in Ohio released shocking images of parents who had overdosed on heroin in their car while their four year-old son was in the back seat.
There were 488 confirmed cases of unintentional opioid overdose deaths in Massachusetts during the first six months of 2016, with an estimated additional 431 to 509 deaths, according to the state's Department of Public Health.
The disturbing video of the toddler appears to be symptomatic of a wider American problem. President Barack Obama has declared September 18 to 24 as Prescription Opioid and Heroin Epidemic Awareness Week in response to an epidemic what many say has surpassed crisis proportions.
More than 28,000 people died from opioid overdoses in 2014, more than any other year on record. At least half of all opioid overdose deaths involve a prescription opioid.
Obama claimed he was committed to reducing overdose deaths and will continue to push Congress to provide $1.1 billion to widen access to treatment services.
However, a report by the Center of Public Integrity and Associated Press, published Wednesday, revealed that pharmaceutical giants had spent $880 million on lobbying against opioid restrictions and campaign contributions from 2006 up to 2015.
READ MORE: Big Pharma spent $880mn on keeping opioids available – report
You can share this story on social media: