Chelsea Manning could face indefinite solitary confinement over suicide attempt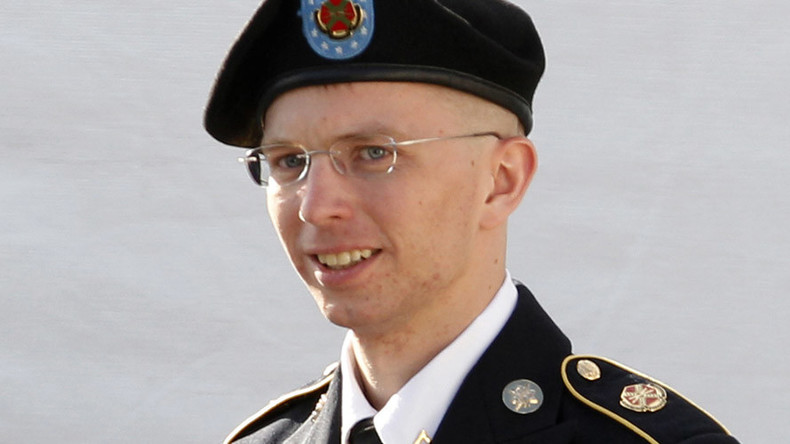 Whistleblower Chelsea Manning will hear whether a US military disciplinary board judging her attempted suicide earlier this year decides to impose indefinite solitary confinement. The board has 100 pages of evidence against Manning, who is expected to represent herself.
"It doesn't matter what I say or do," Chelsea Manning told Vice News through an intermediary, as she is not allowed to talk to the press. "The outcome is going to be the same."
Manning, formerly Bradley Manning, is not permitted to consult with or have an attorney or other advocate present during the hearing. The hearing could last all day, and there will be no transcript or account of the proceedings available to the public.
Some of the documents the military will use in the hearing were made available online at the Fight for the Future site on Thursday, ahead of the hearing.
Among them are Policy Letter 16 which concerns the force cell removal team. Army police prohibit inmates from resisting, impeding or interfering with officers who are deployed in the event an inmate need to be forcibly removed from her cell. The forced cell removal team were called after Manning was found unconscious in her unit.The Army has framed her unconsciousness as an act of resistance or interference, which is a category IV or V offense equivalent to drug possession or extortion.
The Army also found, according to another document, a contraband book in her cell, Gabriella Coleman's Hacker, Hoaxer, Whistleblower, Spy, which officials allege was not properly marked with Manning's name and inmate number on the inside cover.
"A new regulation, that appears to have been crafted in response to Chelsea's confiscated books' expired toothpaste incident from last summer. In fact, this book was one of the books confiscated from Chelsea's cell last summer,"said Fight for the Future.
Following her suicide attempt in early July, Manning went on a hunger strike in protest over the Army's unwillingness to treat her gender dysphoria. That strike began September 9 and ended September 13, when the Army agreed to provide her a transition surgery.
Manning has spent five years in jail of a 35-year sentence at the US Army's Fort Leavenworth prison in Kansas, for leaking thousands of sensitive military documents to WikiLeaks while working as an Army intelligence analyst. She is now facing a host of new charges relating to when she tried to kill herself in July.
"They could start punishing her right away," said Chase Strangio, her attorney at the American Civil Liberties Union. "Last time, she was able to call afterward, and the punishment did not start immediately, but we are concerned then that it might have, and we are concerned now."