'He will be our brother': 6-yo American writes to Obama, offers his home to Syrian boy
Published time: 22 Sep, 2016 21:21
Edited time: 23 Sep, 2016 13:19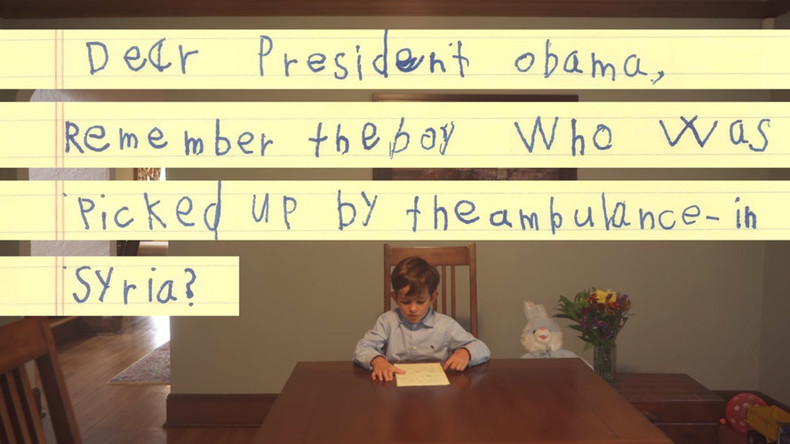 The bloodied Syrian boy whose traumatized face flashed on media screens and prompted outrage around the world caused a six-year-old American boy to write to President Barack Obama, offering a place in his home to the Syrian refugee.
The short video of Omran Daqneesh, a 5-year-old Syrian boy who was seen sitting silently in an ambulance after an air strike on Aleppo, covered in blood and dust, went viral in mid-August and caused worldwide outrage over the ongoing humanitarian crisis in Syria. Daqneesh sustained his injuries following an airstrike by warplanes on the rebel-held Aleppo neighborhood of Qaterji.
"Dear President Obama, remember the boy who was picked up by the ambulance in Syria?" wrote Alex from New York, in a letter published by the White House on Monday. "Can you please go get him and bring him to [our home] ... we'll be waiting for you guys with flags, flowers, and balloons. We will give him a family and he will be our brother."
"In my school, I have a friend from Syria, Omar, and I will introduce him to Omar. We can all play together. We can invite him to birthday parties and he will teach us another language. We can teach him English too, just like my friend Aoto from Japan," wrote Alex.
President Obama quoted Alex's words at the United Nations summit on the refugee crisis this week and said the letter was from a child "who hasn't learned to be cynical, or suspicious, or fearful".
The White House later filmed Alex reading his letter.
"We should all be more like Alex," the President said.
President Obama may have forgotten that under US law people like Alex can't sponsor refugees without a family connection, however.
"We don't turn over responsibility," Lavinia Limón, the president and chief executive of the US Committee for Refugees and Immigrants – an agency that handles resettlement for the federal government – told The New York Times in June.
The president determines the number of refugees accepted each year in consultation with Congress, which appropriates the funds. Once the funds are approved the US government contracts with nine agencies, six of which are faith-based, to resettle the refugees. Refugees are given federal money to learn English and pay for essentials, and are expected to start working in the first couple of months.
Obama has urged developed nations to do more to help refugees from the Syrian crisis. In August, the White House said it had admitted 10,000 Syrian refugees to the United States this year. The US plans to take another 110,000 in the 2017 financial year, the president said.