Authorities look for men who took suitcase, left 2nd Chelsea bomb unexploded
Published time: 21 Sep, 2016 18:55
Edited time: 23 Sep, 2016 09:19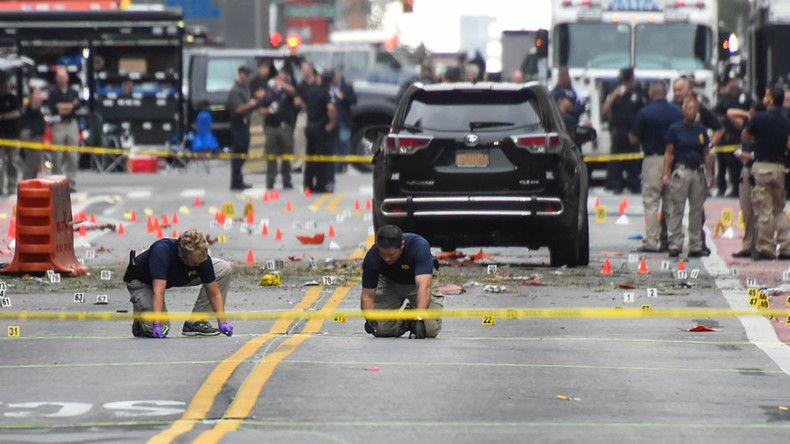 Two men that found the pressure-cooker bomb in Manhattan's Chelsea neighborhood last Saturday are now being sought by the authorities for questioning. They made off with the bag the bomb was in, but left the explosive device behind.
The unexploded pressure cooker was found on 27th Street, four blocks away from the bomb that went off in a garbage container on West 23rd Street, injuring 29 people on Saturday. Surveillance cameras showed the two men picking up the rolling suitcase, removing the improvised bomb and placing it on the sidewalk, then departing with the piece of luggage.
Police said the cell phone attached to the pressure cooker bomb helped them trace it to Ahmad Khan Rahami of Elizabeth, New Jersey, who has been charged in connection with the bombing. Rahami was arrested on Monday morning, after a shootout with police.
"We are interested in locating them and how they came across this bag," Jim Waters, head of the New York Police Department's counterterrorism bureau, told reporters at a press conference Wednesday. "We tracked them through several blocks on several cameras."
The duo is only wanted for questioning, the NYPD and FBI said. There are no pending charges or warrants for their arrest.
"They are witnesses at this point," Waters said. "We have no reason to believe they are involved. Looks like they were more interested in taking the bag than what is in it. We don't even know if they are aware of it."
Police said it was unclear whether the two men may have accidentally disabled the bomb while removing it from the suitcase, as unnamed investigators told local media earlier this week. The bomb was definitely disarmed by a police robot.
"They look like they were two gentlemen just strolling up and down Seventh Avenue at the time," Robert Boyce, the NYPD's chief of detectives, told DNAInfo.
Authorities have linked Rahami with the Chelsea bombing as well as the Saturday morning blast at Seaside Park, New Jersey, minutes before the start of a Marine Corps charity race. Several explosive devices, also believed to belong to Rahami, were found in the garbage bin at the Elizabeth, New Jersey train station on Sunday. They went off as the police robot was attempting to disarm them.
On Wednesday, Rahami was formally charged before a federal judge in Lower Manhattan. The charges against him include bombing, property destruction and use of weapons of mass destruction, but not terrorism.