One less 'moderate': US designates ISIS/Al Nusra ally a terrorist group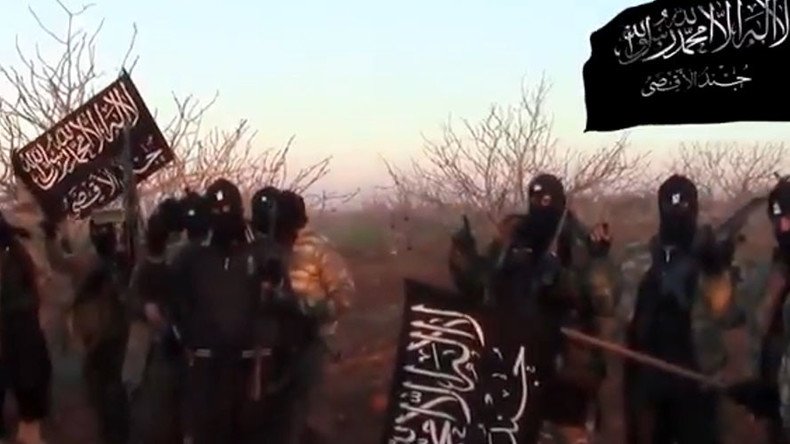 A rebel group operating in northern Syria has been designated by the US as a terrorist organization. Since its founding, Jund al-Aqsa has worked closely with the Al-Nusra Front and ISIS, but has not been viewed as terrorist until now.
The State Department announced the designation on Tuesday, calling Jund al-Aqsa (JAA) "a terrorist group… that primarily operates in Idlib and Hama provinces" of northern Syria. Though the group has officially split and operates independently, "it is still openly aligned" with the Al-Qaeda affiliate known as Jabhat al-Nusra, the State Department said in a statement.
To justify the designation, the State Department listed two suicide bombings conducted by the JAA in March 2015 on the outskirts of Idlib, as well as the February 2014 massacre of 40 civilians in Maan, a village in the central Hama province. There was no further explanation as to why it took so long to designate JAA a terrorist group, however.
Reports that former 'moderate' rebels of Jund al-Aqsa have now been recognised as a terrorist group by the #USA. Only took 2 & a half years

— Paul Antonopoulos (@oulosP) September 20, 2016
Jund al-Aqsa ("Soldiers of the Farthest Mosque") was set up in 2012 as a subgroup of Al-Nusra, but many of its members have since defected to either the main body of Al-Nusra or to Islamic State (IS, formerly known as ISIS/ISIL). Its founder, Sheikh Abdul Aziz al-Qatari, had reportedly fought for Al-Qaeda in Afghanistan and Iraq, as well as in Chechnya.
The group's strength is estimated at no more than 600 fighters, concentrated in the part of Syria held by the US-backed "moderate rebels." In February this year, JAA assisted IS in the Khanaser offensive, attempting to cut off the Syrian government forces' supply line to Aleppo. The offensive was defeated by mid-March and the supply line was restored.
READ MORE: Moscow on Al-Nusra 'rebranding': Attempts by terrorists to disguise themselves futile

In July, Al-Nusra renamed itself Jabhat Fath al Sham (Conquest of the Levant Front) in hopes that its official severing of ties with Al-Qaeda would spare the group from Russian and US airstrikes. The group did not abandon its jihadist objective, Russia's Foreign Ministry noted, warning that "all attempts by terrorists at altering their image will be futile."
On Monday, Jund Al-Aqsa called for Syrian rebel groups to merge with Al-Sham, so long as they remained loyal to the cause of jihad, the Long War Journal reported.
The group also said it "considers it an honor" to be designated as terrorists by the US government.
@ToreRHamming does this mean they're gonna bomb Jund too with russia? timing of this designation seems interesting

— أبو نضال السعيدي (@abo_nidhal21) September 20, 2016
It is unclear what effect the designation will have, however. Under the terms of the Syrian ceasefire agreed 10 days ago, only ISIS and Al-Nusra were considered appropriate targets for airstrikes by Russia and the US-led coalition.
The ceasefire has effectively ceased to apply, however, following a coalition airstrike on Syrian government forces in Deir ez-Zor on Saturday. The attack, which killed 80 Syrian soldiers, enabled IS besieging the enclave to advance. Washington has called the airstrike an accident, and brushed off Russian demands for an emergency session of the UN Security Council as "cynical."
On Monday, Syrian rebels and the US accused Russia and the Syrian government of bombing a Red Crescent humanitarian aid convoy outside Aleppo. Neither Russian nor Syrian jets were anywhere near the convoy, the Russian Defense Ministry has confirmed. The UN has halted all aid deliveries in Syria following the attack.
You can share this story on social media: