Moscow on Al-Nusra 'rebranding': Attempts by terrorists to disguise themselves futile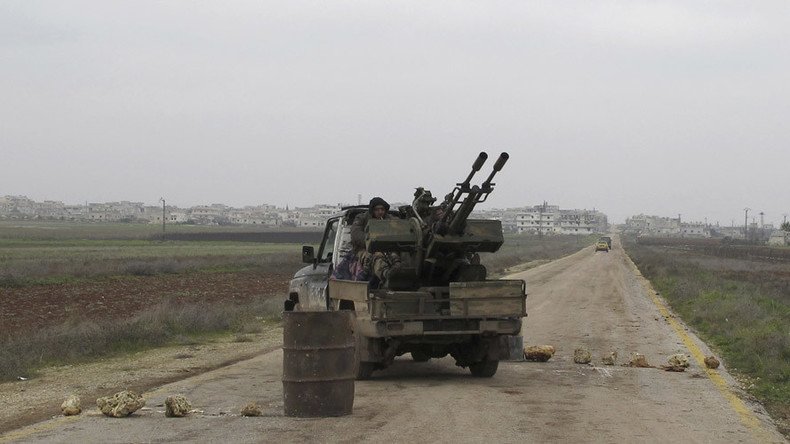 Russia will continue fighting terrorists in Syria, even if they pretend to be someone else, its Foreign Ministry said following an announcement by Nusra Front that it will change its name and break up with Al Qaeda.
"No matter how Jabhat al-Nusra calls itself, it will remain an illegal terrorist organization, which has no other objective but the creation of a so-called Islamic Caliphate with the most cruel and barbaric methods," the Ministry said in a statement issued on Friday titled "On attempts of terrorists in Syria to "change color."
"As part of their 'rebranding' the terrorists even undertook camouflaging their flag, changing it from black to white," the statement said.
"It needs no explanation that all attempts by terrorists at altering their image will be futile."
The Russian Foreign Ministry found it necessary to point out that Nusra Front was formed in 2012 as the strike force of Islamic State (ISIS/ISIL, also Daesh) and has sworn allegiance to Al Qaeda, serving as its affiliate alongside other branches of the global jihadist network in the Middle East.
"With the help of the international community, a consistent fight against those wild fanatics will continue until their complete elimination," the ministry concluded.
On July 28, the Qatari-based Al Jazeera channel aired an address given by Al-Nusra's leader, Mohamad Golani, who said that the group is changing name to Jabhat Fatah al-Sham and its official flag from black to white. He announced that the terrorist group is prepared to act "without ties with any foreign party."
Golani said he hoped the name change would bring an end to airstrikes, claiming that Russian Air Force and US-led antiterrorist coalition are using Nusra's connections to Al Qaeda as an "excuse to bombard and displace Muslims in the Levant," Reuters quoted Golani as saying.
Russian diplomats specifically noted that Mohamad Golani had thanked Al Qaeda for understanding the necessity for breaking away and asked it for instructions on how to carry out jihad in the new conditions.
Ahead of Golani's Thursday address, Al Qaeda leader Ayman al-Zawahri approved Nusra Front's initiative to separate, Reuters reported.
The US State Department said that Nusra Front fighters remain a legitimate target for US airstrikes.
"We're gonna have to wait and see," Reuters cited State Department spokesman John Kirby as saying. "We judge a group by what they do, not by what they call themselves."
The news of Nusra's pivot came on the same day Moscow and Damascus announced a new humanitarian operation to aid Aleppo, which was once Syria's largest city. It is to be the biggest since the beginning of the Syrian civil that will specifically target neighborhoods still controlled by the rebels. Several safe corridors to exit the city have now been opened for the estimated 250,000 civilians still trapped in the rebel zone and all militants ready to lay down their arms.
Kirby expressed concern that the humanitarian operation in Aleppo could precede a government assault on the city.
"This would appear to be a demand for the surrender of opposition groups and the evacuation of Syrian civilians from Aleppo," Kirby said. "The innocent people of Aleppo should be able to stay in their homes safely and to receive the humanitarian access, which Russia and the regime... in principle have agreed."
Despite the increasing number of settlements adhering to the Russia-US brokered ceasefire regime, which came into force on February 27, not all of the groups claiming to belong to the "moderate" Syrian opposition are observing the truce.
Militants from various Islamist groups continue shelling residential areas and government troop positions in Aleppo, while attacking humanitarian convoys and preventing food and medical humanitarian supplies from reaching the civilian population.
You can share this story on social media: