Masked intruder enters elementary school in Utah, bomb squad and snipers at scene (VIDEO)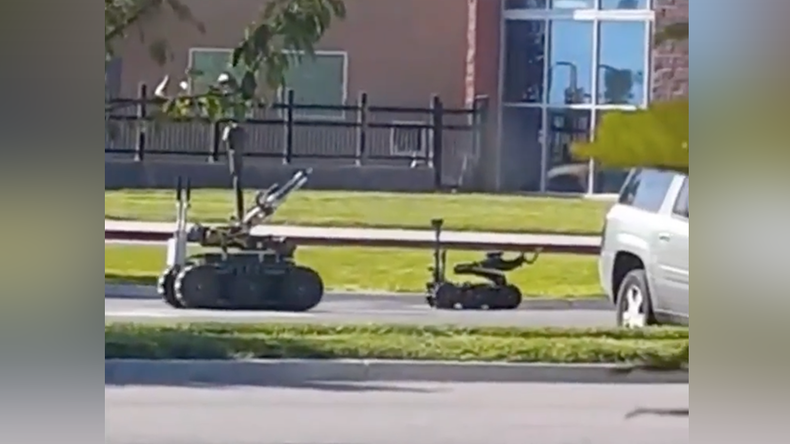 A masked man ordered children be evacuated at Eagle Valley Elementary School in Eagle Mountain, Utah, so that "no one will get hurt." The threat prompted bomb squad and sniper-armed police to the scene, where evacuations took place.
The suspect is in custody, the Utah County Sheriff's Department told KSTU.
Sheriff Rescue vehicle on scene of possible bomb threat at Utah County school. @abc4utah https://t.co/jzyJfdGfCF

— (@NickMcGurkTV) Sep 19 2016
All children are off the school premises, Assistant to the Superintendent of the Alpine School District Kimberly Bird told KSTU.
Bird told the local Fox affiliate that a man wearing a mask entered the school office shortly after 2:00pm, warning, "Evacuate the kids and no one will get hurt."
The suspect was photographed wearing a flowing, bright green outfit with a white head covering.
The suspect appears to be Christopher Craig, who drove onto an elementary school playground in 2014, dressed in similar Arabic neon green garb with a head covering. Craig has a history of stirring comotions, as in 2013 he disrupted multiple Colorado churches, according to the Associated Press.
Craig has called himself an "Islamist jihadist" and sent out written threats to several media outlets before the Eagle Mountain incident Monday, according to reports.
A woman claiming to live across the street from the school, Kyla Moulton, covered the unfolding events via Facebook Live.
In an email to the El Paso Times, received shortly before the Eagle Mountain incident, Craig wrote that he would "call 911 with a threat of an explosive and drive onto my 9yr olds elementary school, Eagle Valley Elementary, with a True Explosive."
Craig also wanted to be known under a different name, saying he was "was born into this world under the slave name of Christopher Craig. Currently, I am known as The Radical Islamic Jihadist Muhammad Allah Al-Khidr."
"My reason for writing Today is because of my pending arrest and hunger strike which begins when I press send on this Discourse of Truth," he continued. "In 2 hours, call Eagle Mountain PD in Eagle Mountain, UT if you think I am bluffing. Ask them."
The email further meandered, "Racism is the reason for my hunger strike, to take this conversation deeper, to The Truth, Core, and roots."
You can share this story on social media: