Alabama pipeline ruptures, leaking 250,000 gallons & causing 'fuel emergency'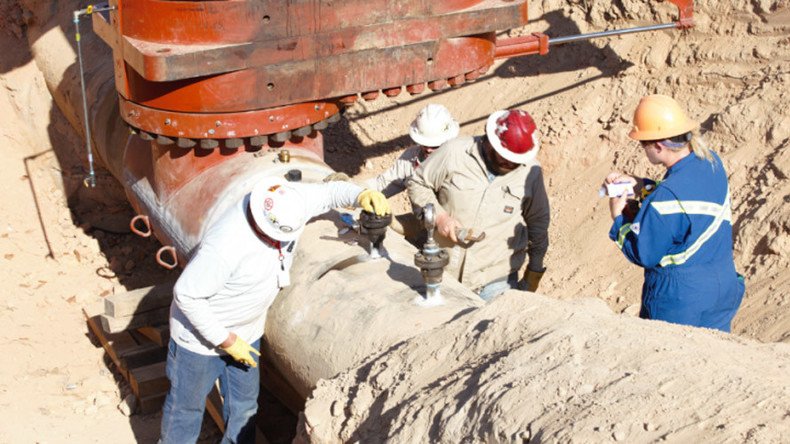 At least 250,000 gallons of gasoline have spilled following a pipeline rupture in central Alabama. Emergency responders are working to repair the spill, while Alabama and Georgia have declared a state of emergency due to possible fuel shortages.
The spill, equivalent to 6,000 barrels, took place in a rural area southwest of Helena, Alabama, and was first noticed Friday. A spokesman for Colonial Pipeline said the spill has affected an area about two acres in size, Birmingham's WBRC-TV reported.
According to local media, the spill is located near Lindsey's Crossing in Shelby County, about 28 miles southwest of Birmingham.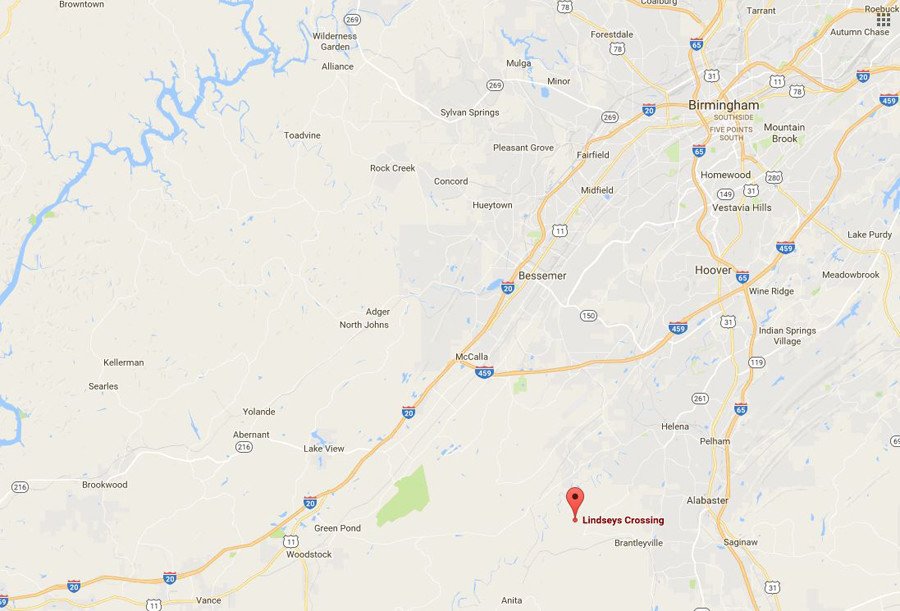 Over 600 responders have been sent to the area and are working around the clock to locate the leak's origin and repair the pipeline, Colonial spokesman Bill Berry said. Most of the spill has been contained in water retention ponds, and there is no concern for public safety, the spokesman said.
"It's not safe for our workers to recover much product off of the pond due to gasoline vapors," Berry added. "It's a challenge for us to do much because the vapors are not at safe levels for human health. So that presents a challenge to say how much has been released."
Environmental Protection Agency personnel at the site said that local residents were not in danger and that the spill was unlikely to contaminate the nearby Cahaba River, which is home to a number of endangered species, AL.com reported.
Federal authorities have imposed a no-fly zone above the affected area, to "protect responders, personnel and public," and closed a nearby shooting range as a "precaution." Local authorities are also blocking vehicles from accessing the trails near the leak site.
The 5,500-mile long pipeline runs from Houston, Texas to New York City and normally carries 1.3 million barrels of refined gasoline and other petroleum products a day. It has been shut down since last Friday due to the spill, which may impact the fuel supplies in a number of states.
"Based on current projections and consultations with industry partners, parts of Georgia, Alabama, Tennessee, North Carolina and South Carolina will be the first markets to be impacted by any potential disruption in supply," Colonial Pipeline said in a statement.
Georgia and Alabama have already declared a state of emergency in response to the spill, seeking to keep the gas prices from skyrocketing.
Ironic that the pipeline spill in Alabama has caused a state of emergency due to a fuel shortage, not environmental damage.

— Ogimaakwebnes (@chiefladybird) September 16, 2016
According to the National Transportation Safety Board, this is the largest gasoline spill for Colonial Pipeline since the 1996 disaster, when 22,800 barrels spilled into Reedy River near Simpsonville, South Carolina. Between that and six other spills, Colonial was fined $34 million in 2003, the largest civil penalty in EPA history.
You can share this story on social media: