How much for ambassador? Hacked DNC files reveal plum posts for big donors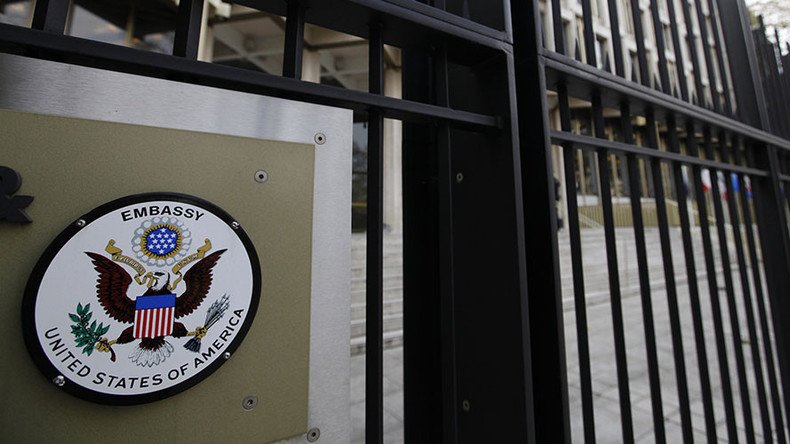 Hacker 'Guccifer 2.0' has offered support for allegations that Democrats rewarded big donors and fund-raisers with plum diplomatic posts, by releasing a donor list from November 2008, when current VP candidate Tim Kaine chaired the DNC.
Among the 500 megabytes of data released Tuesday was the document titled "11-26-08 NFC Members Raised," listing the names and addresses of some 100,000 Democratic National Committee donors. Cross-referencing the top donors' names revealed that they were later appointed to ambassador posts and other government jobs.
A third or more of US ambassadors are not career diplomats but political appointees. President Barack Obama came under criticism in 2013 after appointing several big campaign donors to prestigious diplomatic posts. Most recently the US ambassador to Hungary made headlines with some rather un-diplomatic remarks; Caroline Bell had been a TV producer before raising $2 million for the DNC.
Matthew Barzun, who raised a total of $3.5 million, became an ambassador to Sweden (2009-2011), and is currently the US ambassador to the UK.
Kirk Wagar raised a total of $2.3 million, and was appointed US ambassador to Singapore in 2013.
The US ambassador to Spain and Andorra from 2009 to 2013 was Alan Solomont, who raised $2.3 million.
John Roos raised just over $2 million, and served as the US ambassador to Japan from 2009 to 2013.
Bruce Oreck contributed $1.13 million, and was US ambassador to Finland from 2009 to 2015.
Robert Mandell raised $1.12 million, and became the US ambassador to Luxembourg in June 2011; he served until 2015.
After donating $605,000, Jane Hartley became the US ambassador to France and Monaco in 2014.
Big donors were also appointed as ambassadors to the Bahamas, Switzerland, South Africa, Belgium, New Zealand and the Czech Republic, the documents reveal.
Pamela Hamamoto contributed $605,000. In May 2014, she became the US permanent representative to the UN in Geneva.
Crystal Nix-Hines gave $600,000, and was confirmed by the Senate in June 2014 to serve as US permanent representative to UNESCO.
The documents cover a period between 2009 and 2011, when the DNC was chaired by Tim Kaine, currently Hillary Clinton's running mate on the presidential ticket.
"The DNC is the victim of a crime — an illegal cyber-attack by Russian state-sponsored agents who seek to harm the Democratic Party and progressive groups in an effort to influence the presidential election," Interim Chair Donna Brazile said in a statement Tuesday. She added that the party's legal team was reviewing the documents to confirm their authenticity, "as it is common for Russian hackers to forge documents."
The hacker who released the files says he acted alone and has denied any connection to the Russian government. His moniker, 'Guccifer 2.0', is a nod to the Romanian national whose amateur exploits in 2013 revealed Hillary Clinton's use of a private email server while she served as the US secretary of state.
You can share this story on social media: