Incomes up, but women and minorities still poorest – US Census Bureau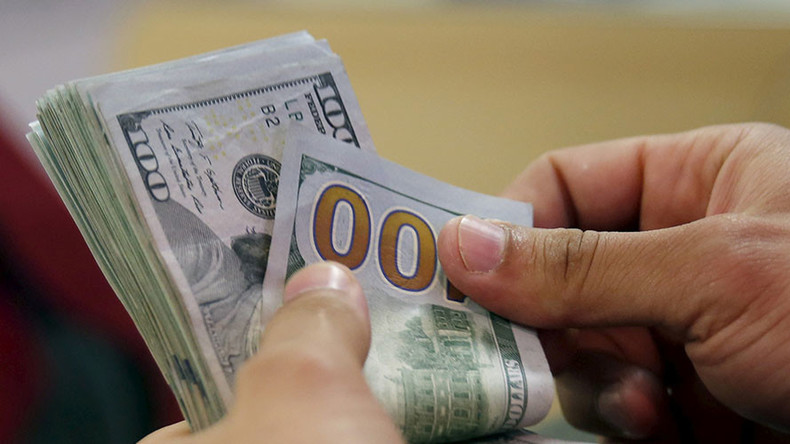 The median household income in the US was $56,500 in 2015, in increase of 5.2 percent from 2014, according to the US Census Bureau. Additionally, the US poverty rate dropped 1.2 percent, while the percentage of people without health insurance also fell.
The boost in median household income (in real terms) from 2014's $53,718 is the first annual increase of that figure since 2007, the Census Bureau announced Tuesday as part of its release of two reports, Income and Poverty in the United States: 2015and Health Insurance Coverage in the United States: 2015.
Real median income for family households in 2015 was $72,165, while non-family households was $33,805, increases from 2014 of 5.3 percent and 5.4 percent, respectively. Real median income in 2015 was 1.6 percent lower than 2007 and 2.4 percent lower than in 1999, the peak year for that figure.
Real median income of Hispanic households increased by 6.1 percent, while non-Hispanic white and black household incomes increased by 4.4 percent and 4.1 percent, respectively. Asian households registered the highest median income in 2015, but the percentage change from 2014 was not statistically significant.
Real median income increased in all US regions, the highest being in the West (6.4 percent) and the lowest in the South (2.9 percent).
Median earning for men and women increased 1.5 percent and 2.7 percent, respectively, representing the first annual increases for men and women since 2009. Median earning for women ($40,742) working full-time throughout 2015 was 80 percent of their male counterparts ($51,212).
The US poverty rate in 2015 was 13.5 percent, or 43.1 million people, down by 3.5 million from 2014. The 1.2 percent drop in the poverty rate from 2014 to 2015 is the largest annual percentage drop since 1999. In 2015, 8.6 families lived in poverty, down from 9.5 families in 2014. (The weighted average poverty threshold for a family of four was $24,257 in 2015.)
In 2015, 28.2 percent of families with a female householder were in poverty, a decrease from 2014. Meanwhile, 5.4 percent of married-couple families and 14.9 percent of families with a male householder lived in poverty. The number of males (12.2 percent) and females (14.8 percent) in poverty in 2015 both fell by just more than 1 percent from 2014.
For those aged 18 to 64, the poverty rate for women was 14.2 percent while it was 10.5 percent for men. Women age 65 and older was 10.3 percent, and 7 percent for men of the same age group.
About 9 percent of non-Hispanic whites were in poverty in 2015, about a 1 percent decrease from 2014, while 21.4 percent of Hispanics and 24.1 percent of blacks lived in poverty in 2015, drops of just more than two percent for both groups. The change of Asians in poverty in 2015 was not statistically different from 2014.
Poverty decreased across the US, except for the Northeast, which did not show a statistically different change from 2014.
The number of people without health insurance in the US went down from 33 million in 2014 to 29 million in 2015, a 10.4 percent drop. The percentage of people without health insurance dropped for every year of age under 65, the Census reported.
The Census Bureau also found that the Supplemental Poverty Measure rate in 2015 was 14.3 percent, or 1 percent lower than in 2014. "The supplemental poverty measure serves as an additional indicator of economic well-being and provides a deeper understanding of economic conditions," the Census Bureau explained as part of its release of a third report, The Supplemental Poverty Measure: 2015.