Nearly 40% of African-American children living in poverty – study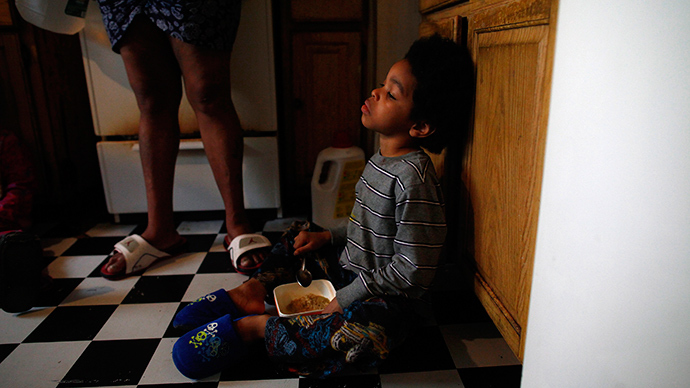 A new study found the percentage of American children living in poverty has declined slightly since 2010 as the economy has improved, but the rate for African-American children remains extremely high, at nearly 40 percent.
More than 45.3 million people are considered to be living in poverty in the United States, given a poverty line of $24,000 for a family of four. Some 14.7 million of these, or 20 percent, are children.
READ MORE: 20% of US school children living below poverty line, report says
While that figure has declined from 16.3 million in 2010, it still comprises one-fifth of the total number of American children under 18, and one-third of Americans living in poverty, according to Pew Research Center analysis of Census data.
Pew said that for the first time since the US Census starting collecting data in 1974, the number of African-American children living in poverty outnumbers the number of white children. Poverty rates declined for white children from 4.9 million in 2010 to 4.1 million in 2013, but for African-American children it only decreased from 4.4 million in 2010 to 4.2 million in 2013.
While Pew said the difference is not statistically significant, it is still notable since white children outnumber African-American children by three to one, with two out of five African-American children living in families with total income below the poverty line.
There are also stark differences for Latinos. In 2013, one out of three Latino children, or 30.4 percent of the 18 million Hispanic children in the country, was living in poverty, compared to 1 out of 10 white and Asian children, according to Pew.
READ MORE: Over 14 million low-income older Americans are food insecure - gov't report
The poverty rate for African-American children can be explained, in part, by the employment status and level of income of their parents, according to Mark Hugo Lopez, the director of Hispanic research at the Pew Research Center. Blacks are more likely to be unemployed and earn less than people of other races.
"The labor market has recovered, but the recovery has been uneven," LopeztoldCNN.
Last month, the Department of Labor said the unemployment rate for African-Americans was 9.5 percent, compared to 6.6 percent for Hispanics, 4.6 percent for whites and 3.8 percent for Asians.
"Even though many black parents may be working they may not necessarily be earning as much as their white or Asian counterparts," Lopez said.
You can share this story on social media: