Nurse from iconic 'V-J Day in Times Square' photo dies aged 92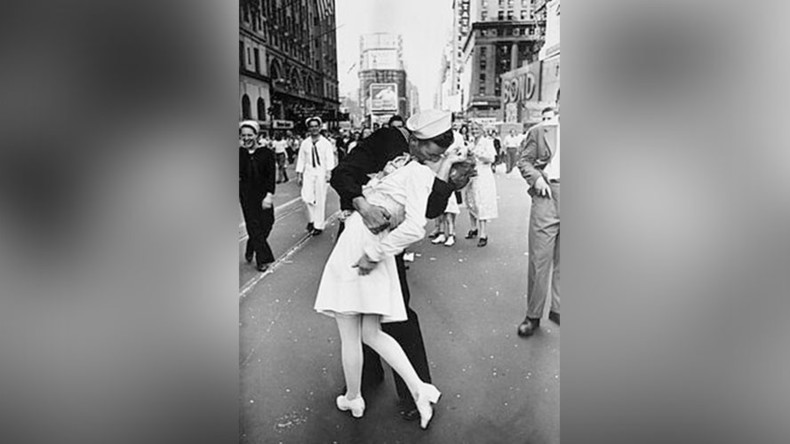 Greta Zimmer Friedman, the nurse from one of the most iconic images in history has died aged 92. Friedman achieved notoriety when a photographer captured the moment a sailor kissed her in Times Square following the surrender of Japan during World War II.
She died in Virginia after contracting pneumonia, her son Joshua told the New York Daily News (NYDN).
Born in Austria, Friedman fled to the US in 1938 to escape the Nazi party. On 14 August 1945 the then 21-year-old was working as a dental assistant when she wandered into Times Square after hearing of Japan's surrender, following the atomic bombing of Hiroshima and Nagasaki that over 150,000 Japanese civilians.
Life magazine photographer Alfred Eisenstaedt captured the moment sailor George Mendonsa grabbed and kissed her creating one of the most iconic images of all time, known as V-J Day in Times Square.
Despite being published only weeks after it wasn't until the 1960s that Eisenstaedt saw the picture and recognised herself. A 1980s issues of Life asked for the nurse and sailor to come forward, receiving dozens of claims all difficult to verify.
A 2012 book done the detective work and confirmed the identity of the subjects, followed by a New York Post article in which it was revealed that Mendonsa was on a first date at the time, running away from her to kiss Friedman. Luckily the date, Rita Petry, carried no anger and would go on to marry Mendonsa.
Friedman said in 2005 "It wasn't my choice to be kissed. The guy just came over and grabbed!" sparking a debate on whether it was sexual assault. Friedman's son told the NYDN that his mother understood that some people would see the kiss as assault but that she "didn't assign any bad motives to George in that circumstance, that situation, that time."
The two were reunited in the 1980s and remained friends until Mendonsa's death in 1998.