Sioux tribe wins partial halt to Dakota pipeline in federal court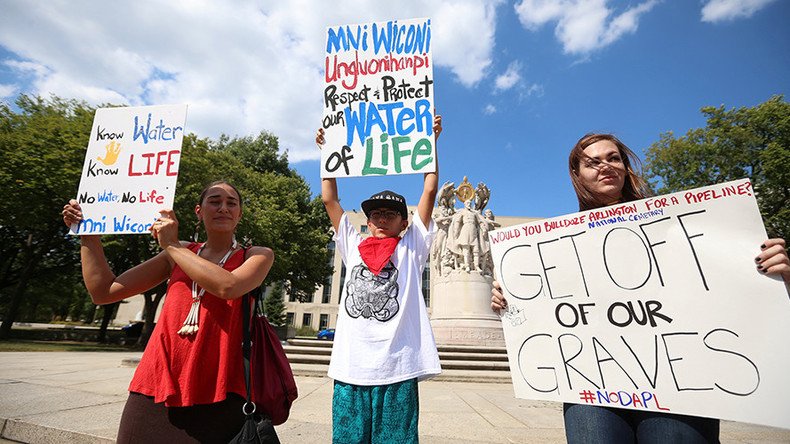 The Standing Rock Sioux tribe's request for a temporary stop work order on the Dakota Access Pipeline has been granted by a federal judge. Sacred sites in North Dakota were bulldozed over the weekend, a day after the tribe identified them in court papers.
Energy Transfer Partners is trying to construct a 1,200-mile Dakota Access pipeline.
Work on the pipeline will cease for a limited time between State Highway 1806 and 20 miles east of Lake Oahe, US District Judge James Boasberg ruled Tuesday in Washington DC. The project is allowed to continue west of the highway, because the judge viewed the US Army Corps of Engineers as lacking jurisdiction on private land.
The tribe, however, was not pleased, as they had sought a total shutdown of the project.
When the stoppage will be lifted remains to be seen.
The order came as a result of an emergency hearing called by Judge Boasberg after the Standing Rock Sioux tribe filed a temporary restraining order over the weekend. Dakota Access construction crews had just used bulldozers to remove topsoil across a 150-foot-wide, two-mile stretch of area near the confluence of the Cannonball River and the Missouri River.
The work destroyed stone features, including prayer rings and cairns used to mark burial grounds, according to the tribe.
"I surveyed this land and we confirmed multiple graves and specific prayers sites," Tim Mentz, Sr., the tribe's former longtime historic preservation officer said in a statement Saturday, according to Indianz.com "Portion and possibly complete sites, have been taken out entirely."
The destruction led to a confrontation between #NoDAPL protesters and construction workers, where security guards used dogs and pepper spray against protesters.
Attorneys for Energy Transfer Partners filed court documents on Monday denying that workers destroyed any cultural sites but cited broken fences, incidents of trespass and "horrible threats of physical violence" against construction workers and other employees.
Standing Rock Sioux Tribal Chairman David Archambault II complained: "They did this on a holiday weekend, one day after we filed court papers identifying these sacred sites. The desecration of these ancient places has already caused the Standing Rock Sioux irreparable harm. We're asking the court to halt this path of destruction."
The request is in addition to the tribe's other challenge to the Army Corp of Engineers' decision to fast-track grant permits to the operator of the four-state pipeline. Boasberg said he expected to issue a full opinion on that lawsuit on September 9.
Since April, citizens of Standing Rock Sioux have camped on the edge of the reservation to protect their grounds, water and sacred sites. The tribe claims the Army Corps of Engineers fast-tracked approval for the pipeline without properly consulting them.
"As the Chairman of my Tribe, I sent numerous letters to the Corps, requesting consultation and expressing out concerns that the proposed pipeline would threaten our lands and contaminate our water," Archambault said. "Our concerns were ignored."
Thousands of people from more than 200 native tribes have joined the Standing Rock Sioux's effort to protect their lands, waters and sacred sites.
A new investigation by Little Sis, a research outlet, found a plethora of Wall Street banks are backing the Dakota Access Pipeline. It shows that the six top US banks have extended a $3.75 billion credit line to Energy Transfer Partners, the parent company of Dakota Access.
The author of the report, Hugh MacMillan, a senior researcher with Food & Water Watch, told RT it is important to shine a light on how this process is happening across the sector.
"This is just a small example (while it is a large project) of how this system is working, or failing us collectively. Just six banks alone – Wells Fargo, Bank of America, JPMorgan Chase, Goldman Sachs, Morgan Stanley and Citibank – hold over $2 billion in oil and gas industry loans. What I've discovered in looking at the funding for the Energy Transfer family of companies, and specifically for the Dakota Access pipeline, is that many more banks are involved."
MacMillan said Citibank is "running the books and beating the bushes" to get several hundred million from over 2,000 banks.
"I think it is important for the activists there, protecting their land at the confluence of Cannonball River and the Missouri River, to know the powers who they are speaking their truth to," MacMillan said. "Otherwise they are behind the scenes and it seems like one company when it is not. This is a long list of banks all aiming to get paid back through widespread drilling and fracking for decades."
Other banks include The Royal Bank of Scotland, Community Trust Bank, Deutsche Bank and Credit Suisse.
On Tuesday morning, pipeline workers showing up at the construction site were met by protesters. As around 350 protesters gathered at the site, workers left without incident. Presidential candidate Dr. Jill Stein of the Green Party spray painted the blade of a bulldozer used by a construction crew. Two other pieces were also spray painted.
KXNET reported a woman from Pine Ridge had attached herself to a piece of equipment.
The 30-inch-diameter pipeline is expected to carry about 450,000 barrels per day, with a capacity of up to 570,000 barrels per day. The route will begin in the Bakken oil fields near Stanley, North Dakota and end at Patoka, Illinois, where the oil can be transported via another pipeline to the Gulf Coast or shipped to other markets.
The project also has faced protest and controversy in South Dakota. Some see the pipeline as Keystone XL 2.0, named after the Canada-to-Texas tar sands pipeline that was eventually blocked by the Obama administration.
You can share this story on social media: