EpiPen fallout: Clinton vows to hold drug makers 'accountable' with oversight board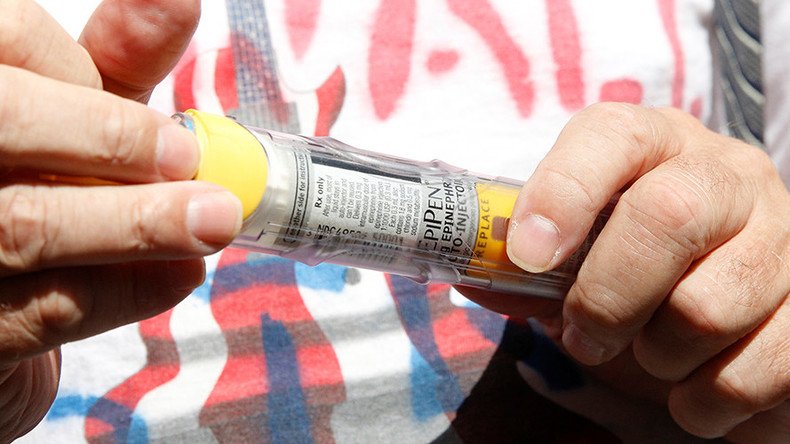 Amid uproar over a 500-percent price increase for allergy treatment EpiPen, presidential candidate Hillary Clinton says she would empower a drug-pricing oversight board to control price hikes. EpiPen's producer is a donor of the Clinton Foundation.
Clinton, the Democratic nominee for US president, announced the new plan on Friday in response to gradual price increases of EpiPen, a injector that offers an emergency dose of epinephrine to counter a severe, life-threatening allergic reaction known as anaphylactic shock.
Since acquiring the rights to EpiPen in 2007, Mylan Pharmaceuticals has increased the price of the product from around $100 for a two-pack of injectors to more than $600. The price hike has been condemned in recent weeks by US senators from both political parties, as Mylan has scrambled to alleviate scrutiny. The company announced earlier this week that it would offer a generic version of the allergy medication for $300.
After bashing the "outrageous" increase on EpiPen this week, Clinton said her new proposal would counter such drastic price jumps for vital drugs.
"All Americans deserve full access to the medications they need — without being burdened by excessive, unjustified costs," she said.
The plan is based on an oversight board, made up of federal officials, that would monitor price increases for drugs. "Should an excessive, outlier price increase be determined for a long-standing treatment," the announcement says, then the oversight board would be able to enact enforcement strategies to make alternative drugs available while "supporting alternative manufacturers that enter the market and increase competition."
The board could also allow emergency imports of similar drugs made overseas and could levy fines against companies for "unjustified price increases."
The proposal does not define how the oversight board would determine an "excessive" price increase, nor does it outline how members of the board would be chosen or whether potential members would be allowed to have past connections to the pharmaceutical or healthcare industries. The proposal also does not detail how the oversight board would interact with US agencies already tasked with drug-pricing control.
Mylan has donated up to $250,000 to the Clinton Foundation, the Clinton family's controversial charity, according to the nonprofit group's website. Mylan's CEO is Heather Bresch, the daughter of US Senator Joe Manchin (D-West Virginia), a Clinton supporter. The company's political outreach led to a 2013 law encouraging the use of EpiPens in schools around the US, leaving the taxpayers to foot the bill.
@HillaryClinton The CEO of the company that makes EpiPen's is a Clinton foundation donor but she'll take care of it don't worry!

— Donald T. Trump (@reaDonaldTrump) August 27, 2016
Mylan's announcement of a generic alternative to EpiPen came days after it said it would introduce a savings card that will cover up to $300 of the cost of the EpiPen two-pack for patients previously paying list price. The company said it would also increase eligibility for its patient assistance program, which will "eliminate out-of-pocket costs for uninsured and under-insured patients and families as well."
"We recognize the significant burden on patients from continued, rising insurance premiums and being forced increasingly to pay the full list price for medicines at the pharmacy counter. Patients deserve increased price transparency and affordable care, particularly as the system shifts significant costs to them," Bresch said in a statement.
You can share this story on social media: