10 arrested at police shooting site in Milwaukee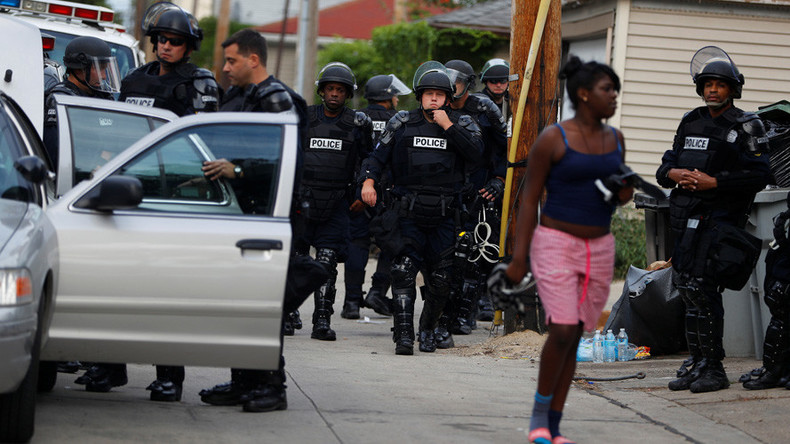 Police in Milwaukee, Wisconsin arrested "about 10 people" who gathered in the Sherman Park neighborhood, at the site where Sylville Smith was killed earlier this month. A state lawmaker was briefly detained as well, local media reported.
Police showed up in the neighborhood Tuesday evening, after receiving complaints from Sherman Park residents about a crowd that gathered at Auer Avenue and 44th Street, near the memorial to Smith. The African-American man was shot and killed after a traffic stop. Police said he was armed and pointing his handgun at an officer.
Several arrests made by @MilwaukeePolice of uncooperative persons in the area of 44th and Auer Avenue.

— Milwaukee Police (@MilwaukeePolice) August 31, 2016
The Milwaukee County Sheriff's Department said the residents had complained Tuesday evening about "rowdy people doing drugs and disturbing their neighborhood." The crowd of about 30-40 people was asked to disperse twice over the course of 20 minutes, at which point the city police began to make arrests for disorderly conduct.
"Residents of Sherman Park have asked for assistance to restore order to the neighborhood," police said in a statement, quoted by the Milwaukee Journal-Sentinel. "Some of the crowd became disorderly and resistive and were also arrested," the police said.
The area was declared "cleared" around 9:30pm, but a large police presence remained in the area, blocking off Auer Avenue between 43rd and 44th streets, the Journal-Sentinel reported.
Read more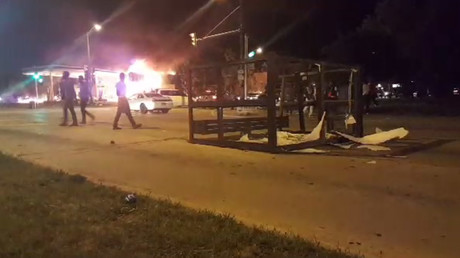 Among those detained was state Representative Jonathan Brostoff, who told the newspaper he was trying to "de-escalate" the situation by passing out chewing gum to protesters. Though some local media reported that he had been cuffed and taken to a police van, Brostoff said he was never under arrest, and that police released him when someone in the crowd identified him as a state lawmaker.
"I think I would have been arrested if I weren't an elected official," Brostoff told the Journal-Sentinel.
The August 13 death of Sylville K. Smith touched off two days of rioting, causing widespread property damage in the area. Smith was armed, and the autopsy findings showed that he was facing the police when he was shot. The officer who shot him was identified as Dominique Heaggan-Brown, Smith's classmate and aspiring rap artist.
Two weeks after the riots, which left a dozen people injured and saw over 40 arrests, Milwaukee Police Chief Ed Flynn said that the neighborhood had been "restored to its residents."
"Right now we're continuing to work through peacemakers and community workers to make sure the scene of the incident is restored to the residents as well. They don't want to have continuous vigils as they go to their front yards and try to get to work and get a good night's sleep," Flynn told WJDT-TV on Monday.
Local resident Marvin Taylor echoed the chief's sentiments. Some of the people visiting the makeshift memorial to Smith were from outside Milwaukee, he told the Journal-Sentinel, adding, "you can't come here and take over a neighborhood."
"You've got people who have to go to work the next day. People are tired," Taylor said. "The neighbors are tired. This has been going on for too long."