Protesters riot, burn cars & properties after fatal officer-involved shooting in Milwaukee, WI
Riots and clashes with police have been reported in Milwaukee, Wisconsin, which began after a man was shot dead by an officer during a chase on foot on Saturday. Police say the victim was armed with a handgun.
READ MORE: Unrest in Milwaukee after officer-involved shooting leaves one dead LIVE UPDATES
Scores of angry African American protesters gathered near the scene of the police shooting at Sherman Boulevard. What at first seemed like a Black Lives Matter-style gathering soon got out of control, however.
Several vehicles, including a police car, were set on fire, and the crowd of rioters then proceeded to break into and loot a gas station, which was then seemingly set alight as well. An eyewitness nicknamed EX414 livestreamed the escalating violence on his Ustream channel.
Shots were being fired near the gas station, preventing police from extinguishing the fire, the Milwaukee Police Department said on its Twitter account. Police had said earlier that they were responding to the disturbance in the Sherman and Auer areas, tweeting that "officers working on peacefully dispersing [the] crowd."
Rioters apparently set several other properties on fire, including a bank. A live stream video showed thick smoke coming out of the windows of BMO Harris Bank, while several fire trucks parked in the area could be seen responding to the fire, after some hesitation.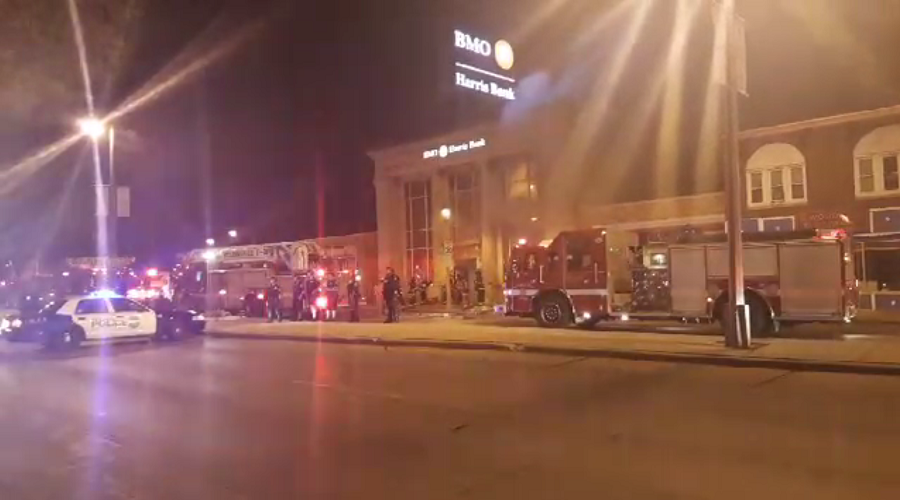 Police officers have barricaded themselves inside a 7th district police station, witnesses report.
Over 100 protesters confronted a line of 20 to 30 officers, Journal Sentinel reported. As the officers sat in their cars getting ready to leave, some participants of the impromptu rally began hitting the car windows, smashing them.
Officers, who had already left, returned to the scene, with many clad in riot gear. Several shots were allegedly fired into the air by some people in the crowd.
Shortly before the situation turned violent, a woman claiming to be the killed suspect's relative, called on the people that had gathered to calm down.
"We don't want anyone else to go to jail or get hurt," she said, according to the outlet.
Despite her plea, the violence continued. One police officer suffered an injury when a brick was hurled at him through a squad car window. He is currently being treated at local hospital, police tweeted.
According to Milwaukee mayor Tom Barrett, at least three arrests have been made as a result of the protests so far. Speaking to the media, he has asked parents of anyone at scene of the rally to "get them home right now."
The events leading up to Saturday night's riots began when an unnamed police officer pulled over a car with two men inside, who then left the vehicle and attempted to run away. A chase ensued on foot, and police fired shots at one of the men, fatally wounding him. The 23-year-old, whose name has not been released, was allegedly in possession of a stolen handgun, police spokesman Capt. Mark Stanmeyer told the media.
Following the encounter, the officer who fired the shots was placed on administrative leave and an investigation into his conduct was launched.
Milwaukee assistant police chief Bill Jessup told Sentinal that the man killed had "a lengthy arrest record" without specifying the nature of crimes.
The gun the suspect allegedly had with him was stolen in Waukesha in March, Jessup claimed, adding that some 500 rounds of ammunition had been stolen in that burglary overall .
Milwaukee has been experiencing a spike in violence over the past few days.
"As everyone knows, this was a very, very violent 24 hours in the city of Milwaukee," Jessup noted, stressing that law enforcement were forced to make "split-second decisions."
Angry crowd gathers at scene of earlier officer-involved shooting in Milwaukee; reports of police car windows smashed - Journal Sentinel

— stephanie (@nodramahea) 14 августа 2016 г.
They're in Milwaukee setting police cars on fire

— Rogue (@JessTheMfnBest) 14 августа 2016 г.
On Friday, a homicide was reported in an area just one block from the shooting, and, on Saturday, a double homicide took place some four blocks from the site. In total, five people were killed in incidents involving shootings within the nine hours leading up to Saturday morning.
You can share this story on social media: