Milwaukee man, whose death sparked riots, shot in chest and arm - autopsy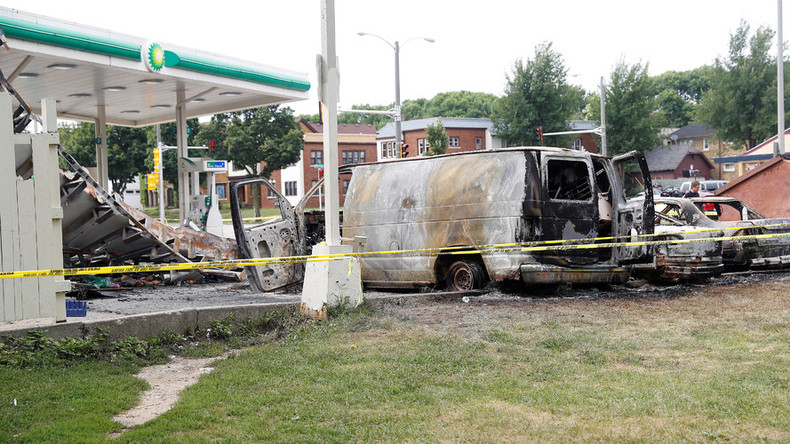 The Milwaukee County medical examiner confirmed that the black man fatally shot by police was hit once in the chest and once in the arm, confirming the police account. Sylville K. Smith's death sparked a week-end of riots in the Wisconsin city.
Word of Smith's shooting sparked violence last Saturday, which lasted for two nights and prompted the authorities to mobilize the National Guard.
There were allegations Smith was shot in the back. Police said that Smith had fled a traffic stop, was armed with a handgun, and had turned toward an officer when he was shot.
The medical examiner's office will not be releasing any reports related to Smith's death, which remains under investigation by the Wisconsin Department of Justice's Division of Criminal Investigation, according to the Milwaukee Journal Sentinel.
Smith was shot when he ran from a traffic stop about 3:30 pm on Saturday, city officials told reporters. There is police body camera footage from that afternoon but it has not been released to the public, unlike other controversial police shootings around the county.
Both the police officer and the suspect in the Milwaukee incident are black. They also apparently knew each other, as they were high school classmates, local media reported.
In a press conference on Sunday, Milwaukee Police Chief Edward Flynn referred to body camera footage, and said, "The individual did turn toward the officer with a firearm in his hand."
Flynn said the footage showed police administering CPR to Smith but concluded, "It certainly appears to me at the time [the officer] made that decision it was a credible decision."
WISN reported Smith was shot by a 24-year-old officer after refusing to put his gun down.
The shooting incident led to two days of riots in northern Milwaukee, with multiple business and cars set on fire, looting and tense confrontations between citizens and police. Observers said the uprising was rooted in decades of systemic problems of segregation and poverty.
Milwaukee police officers started wearing body cameras following an incident where police killed Dontre Hamilton, a mentally ill black man, who died from 14 gunshots. The officer involved was never charged with murder or manslaughter but he was fired from his position.
Hamilton's death led to Black Lives Matter protests in the city, with over 1,500 high school students walking out of class. Milwaukee police later said it had distributed body cameras to 200 police officers.
The ACLU of Wisconsin has called for a thorough investigation and the release of the officer's body cam footage. The organization's executive director Chris Ahmuty said every day that passes without the footage being released raises more questions and diminishes community trust.
"We thought they were going to release the videos, we thought that was the point of body cameras, to give the public access. We see that's not happening," Dontre Hamilton's brother Nate told AlterNet.