'I'm gonna start riot like it's Baltimore': Killer Milwaukee cop made amateur rap video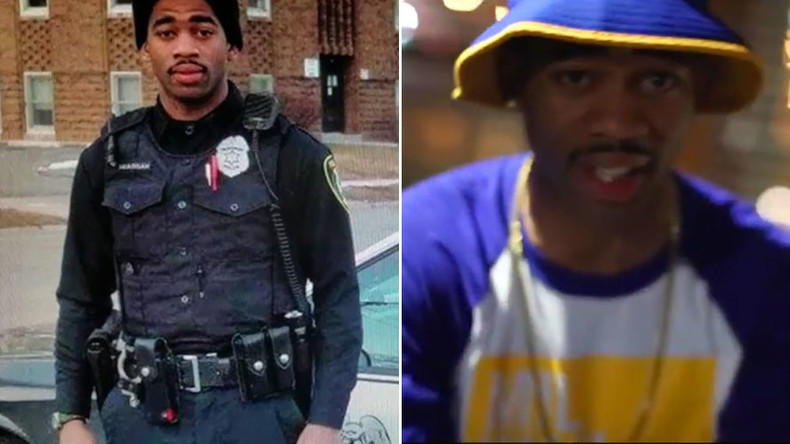 The Milwaukee police officer, whose killing of Sylville Smith led to rebellion in the city last weekend, appeared in a rap video last year where he made light of Baltimore's civil unrest.
Officer Dominique Heaggan-Brown, aka KB Domo, pursues music in his spare time and featured in the version of Monster recorded by Milwaukee hip-hop artist DAE Flywalker in 2015.
"Mess with my circle and I'm gonna start a riot like it's Baltimore," rapped Heaggan-Brown, in reference to the fall-out over the police killing of Freddie Gray in Baltimore earlier that year, for which no officers were convicted.
Gray sustained catastrophic spinal and neck injuries while being transported in a police van and the subsequent civil unrest in Maryland's biggest city lasted more than two weeks, with hundreds of people injured and arrested.
The ironic and tragic nature of Heaggan-Brown's actions were not lost on some.
A gangster rapper who by day is a police officer, raps about starting riots before killing a black man on duty, which then starts riots.

— Mel Jackson Jr. (@justpaulplease) August 17, 2016
Milwaukee Police claim Smith pulled a gun on Heaggan-Brown after initially fleeing a routine traffic stop on August 13, although they have yet to present any proof of that allegation.
Heaggan-Brown is then said to have shot Smith, but police body cam footage which is supposed to back up their version of events has not been released into the public domain.
Smith's family, however, insist he had a legal concealed carry license and was, in fact, on his cell phone and not wielding a weapon as he was shot.
They were also critical of the MSM coverage of the background to the incident, with news outlets failing to report that Smith had won a lawsuit against police, following which he claimed to be harassed by them.
READ MORE: Fox News 'blames the victim' during Milwaukee rebellion coverage
Twitter users were quick to support him as well as contrast the treatment he received at the hands of police, with that of white 'terrorist' Dylan Roof in the aftermath of the Charleston shooting.
I've seen media reporting about how much ammunition was in #SyvilleSmith's gun. IN his gun. Not fired, IN the clip. What does that matter?

— BrownBlaze (@brownblaze) August 15, 2016
His family claim Smith, 23, spent 10 months in jail without being convicted of anything and, contrary to some sources, was not a felon. They also note he was stopped in his own car, not a stolen vehicle.
"They're here making him look like he's some hoodlum or villain," said his cousin in a Facebook video. "He's no angel, but he doesn't deserve any of this."
DAE Flywalker expressed his shock at Smith's killing: "I don't condone the death of anyone, especially someone that looks like me and comes from the same background. I was not there and I have only received the same information as the rest of the concerned community."