Milwaukee protests: 'Many people still feeling unheard'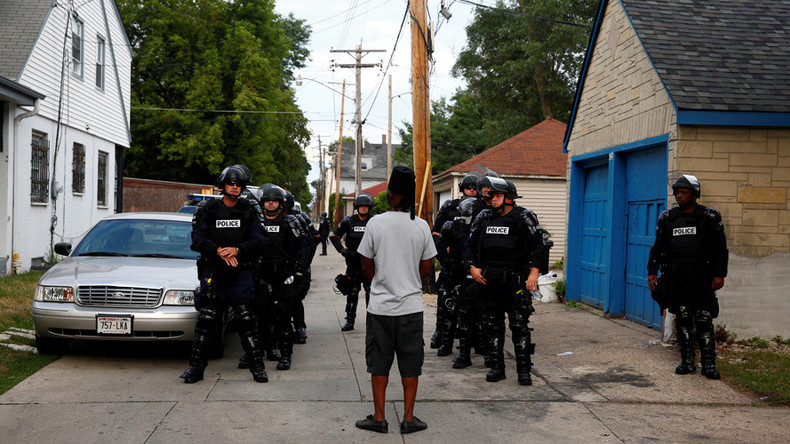 While officials are imposing measures to restore peace in Milwaukee, the situation remains tense as many community members are frustrated with the conditions they have been living in, says Marcelia Nicholson, Milwaukee County Board Supervisor.
The US city of Milwaukee saw riots and street chaos over the weekend following a police-involved fatal shooting of an armed black man. Early Tuesday the situation was relatively calm as officials imposed a nighttime curfew for teenagers.
Milwaukee is America's second-poorest city after Detroit, Michigan, and almost 40 percent of the population is black.
The atmosphere in the city remains tense, according to Marcelia Nicholson, Milwaukee County Board Supervisor.
"Although community members are trying very hard to restore peace in the north side of Milwaukee, there are still many members who are very frustrated with the conditions that they have been living in. They are still feeling unheard," she told RT.
"We've had some really great organizations and community leaders step up and try to restore peace in the area, but with the new presence of the US [National] Guard and with this curfew being enforced now, people are a bit concerned about who they will be targeting and how they will enforce those things," she added.
In Nicholson's view, neither the curfew nor the National Guard being on standby in the area helps to calm the tension.
"I think it gives a sense of restoration to the outside communities – those who are very affected by rioting, but I think in the area in which they are enforcing this, people are a bit angry about it," she said.
Several videos filmed during the riots in Milwaukee and circulated on the internet allegedly showed protesters intentionally calling for white individuals to be targeted. But state representative Mandela Barnes said there has to be a distinction made between actual protesters and those who were taking advantage of the situation.
"The actual protesters are people who care about real change, the people who care about bringing our community together, the ones engaging in the nonviolent actions, but still bringing attention to an issue that has been ignored for a long time...," he said. "However, there are individuals who take advantage of these situations and try to cause disturbances under the guise of organizing, or under the guise of protesting."
The statements, views and opinions expressed in this column are solely those of the author and do not necessarily represent those of RT.