Another for-profit college in trouble: ITT Tech sanctioned by government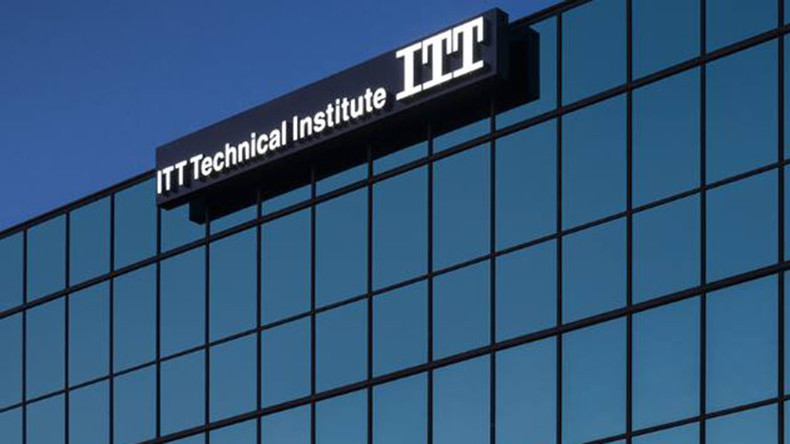 After years of scrutinizing recruitment and loan practices of ITT Technical Institutes, the US Education Department has slapped a series of major sanctions on the for-profit company, including a ban on accepting new students who rely on federal aid.
The Department of Education (DoE) announced Thursday that the ban and beefed-up oversight of ITT Educational Services, the parent company of ITT Technical Institutes, is based on ITT's accreditation status through the Accrediting Council for Independent Colleges and Schools, which has said ITT "is not in compliance and is unlikely to become in compliance with [ACICS] accreditation criteria."
The accreditor recently told the DoE it has doubts about ITT's compliance with requirements related to its financial structure, admissions practices, recruitment, job placement, management, and overall institutional integrity, according to Inside Higher Ed.
The DoE also demanded the company inform its students — about 45,000 people at 139 campuses in nearly 40 states — that its accreditation status is not stable. The company must increase within 30 days its amount of cash reserves, from $94.4 million to $247.3 million, or 40 percent of federal student aid the company took in last year. ITT revenue in 2015 hit $850 million, with around $580 million coming from federal student loans, according to the Indianapolis Star.
The DoE has also tightened financial oversight of ITT; using heightened cash monitoring, the DoE will require ITT to use its own money to provide current students with federal aid disbursements.
"Our responsibility is first and foremost to protect students and taxpayers," Secretary of Education John B. King Jr. told reporters on Thursday. "Looking at all of the risk factors, it's clear we need to increase financial protection and it wouldn't be responsible or in the best interest of students to allow ITT to continue enrolling new students who rely on federal student aid funds."
The DoE sanctions have cast further doubt on whether the Indiana-based company can survive. It options include a negotiation with the DoE for an extension on the 40-percent surety requirement or obtaining private funding in 30 days to meet the DoE demands. ITT Tech has yet to publicly address the DoE sanctions.
"The thing that is certain to bankrupt this company is this increased demand for 40 percent surety," Alexander Paris, an analyst for Barrington Research Associates Inc., told the Star. "Taking the dollar amount from $94 million to $250 million within 30 days, I don't see how it's remotely possible they could come up with that much money in that short of time."
King did not indicate whether the DoE believes the restrictions will sink ITT, saying the actions were about protecting students and taxpayers. Yet the DoE barred ITT from giving raises or severance packages to its executives without government approval, signaling the department understands that the sanctions are insurmountable.
"We're taking the steps necessary here to protect taxpayers and students," King said. "Institutions do sometimes close, and the department has in place procedures for managing school closure."
King pledged that current ITT students won't "shoulder the burden of the school's bad behavior." Those students can continuing applying for federal loans, the DoE said in a blog post detailing students' options.
If ITT closes prior to students' completion of their program requirements, those students "will likely be eligible to discharge federal loans," DoE Under Secretary Ted Mitchell said, according to the Star. New ITT students who have not yet begun classes will not be able to use federal loans, the DoE said.
"At this moment, ITT poses a significant risk to students and taxpayers," Mitchell told reporters, according to Inside Higher Ed. "If you're a current ITT student, you have some options. You can continue your courses at ITT with federal student aid, you can transfer credits to a new school, and you can pause your education and wait to see how this matter resolves. If ITT closes before you finish the program and you don't transfer credits, those students are likely to discharge their loans."
Amid a variety of state and US government investigations of ITT, including a federal fraud probe, student enrollment has dropped dramatically, with new enrollment unlikely to occur following DoE action. ITT has been sued by the Consumer Financial Protection Bureau over loan practices, among a variety of other lawsuits brought by states and students alike.
Ben Miller, the senior director for postsecondary education at the Center for American Progress, called ITT a "dead college," and that the institution probably should have lost its accreditation already.
"It had been clear for some time that ITT was not financially viable over the long term, and something had to be done to acknowledge that letting the school continue to operate was a serious financial risk to everyone involved," Miller said, according to the Star. "I think doing it now, before the new semester starts, is probably the best timing you could have gone for. No matter what, there's going to be some disruption for some people."
Miller added: "I think for a long time now, it's been a question of when ITT closed rather than if it would."
In July 2015, the DoE announced a rule aimed at predatory practices of for-profit colleges, demanding that education institutions would lose federal funding unless they can show their graduates can actually get jobs and repay student loans.
In addition to ITT, another major for-profit education company, Corinthian Colleges, was effectively shut down in April 2015 after being fined $30 million by federal regulators for reportedly falsifying job placement claims. The DoE offered debt relief to some 16,000 students affected by the company's closure.