ISIS leader was secretly held in notorious Abu Ghraib torture prison - report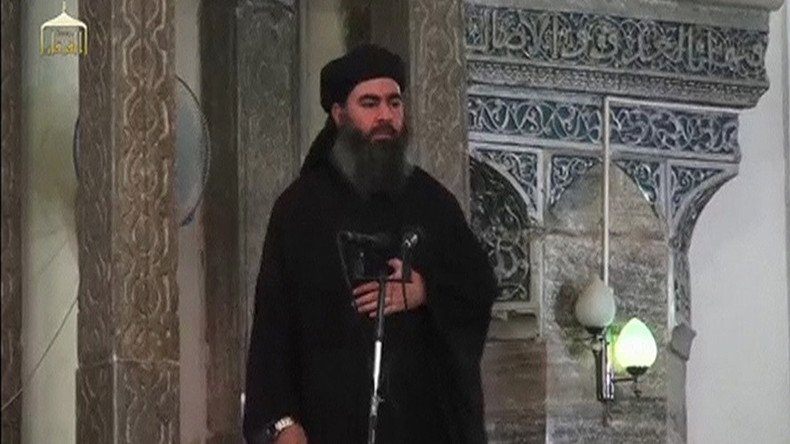 For the first time, the US Army acknowledges that the Islamic State's caliph, Abu Bakr al-Baghdadi, spent most of his time under US detention in the infamous Abu Ghraib prison in Iraq, according to a new report.
Through a Freedom of Information Act records request, the Intercept was able to confirm with the US Army that Abu Bakr al-Baghdadi, the leader of the Islamic State (IS, formerly ISIS/ISIL), had been imprisoned in a special high-profile section at the Abu Ghraib prison in the Iraqi city of the same name, from February to October 2004.
Al-Baghdadi, who has also gone by the name Ibrahim Awwad Ibrahim Ali Badri, was simply referred to by his assigned serial number, US9IZ-157911CI, in detention records. While Abu Ghraib is not mentioned by name, that code reveals that's exactly where Al-Baghdadi was held.
"Former detainee al-Baghdadi's internment serial number sequence number begins with '157,'" US Army spokesperson Troy A. Rolan, Sr. told the Intercept. "This number range was assigned at the Abu Ghraib theater internment facility."
During Spring of 2004, just weeks after al-Baghdadi had been booked at Abu Ghraib, graphic photos leaked of torture sessions and abusive humiliation tactics utilized at the secretive prison.
On October 13 of that year, al-Baghdadi was transferred to Camp Bucca, as were many other Abu Ghraib inmates. Bucca had previously been reported as the sole facility where the IS caliph was held, but according to this new report, al-Baghdadi actually was there for less than two months. He was given an "unconditional release" on December 9.
READ MORE: The elusive Baghdadi? ISIS leader rumored dead in airstrike

Al-Baghdadi's prisoner status had been "civilian internee," for those with ties to terrorism but hadn't been captured while carrying out such activities, according to Reuters.
Just 13 months after al-Baghdadi's release, in January 2006, Abu Musab al-Zarqawi's group al-Qaeda in Iraq aligned with other Sunni radicals to establish the Mujahideen Shura Council, and after Zarqawi's death in a US bombing raid in June 2006, that new coalition renamed itself the Islamic State of Iraq. That group would go on to elect Islamic scholar al-Baghdadi its leader, who remains one of the most wanted terrorist suspects in the world.
You can share this story on social media: