The elusive Baghdadi? ISIS leader rumored dead in airstrike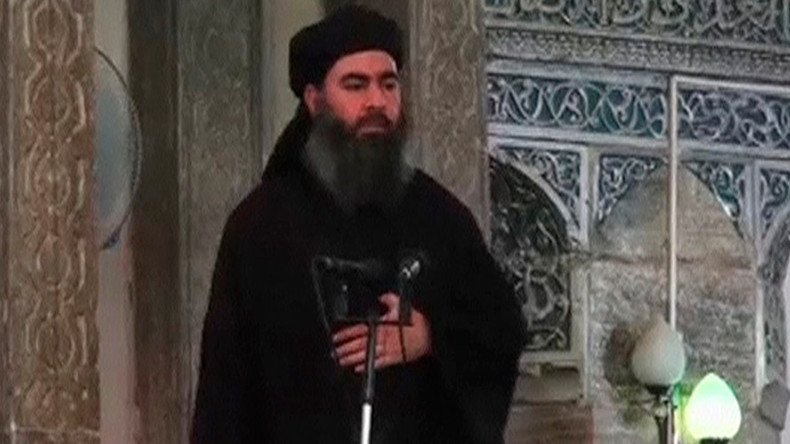 Multiple media outlets have reported that Abu Bakr Al-Baghdadi, leader of Islamic State (IS, formerly ISIS/ISIL), has been killed in a US coalition airstrike. However, the Pentagon and Iraqi military have declined to confirm the claim.
On Monday, the Turkish daily Yeni Safak reported that the self-styled "caliph" of Islamic State was killed in an airstrike on the Syrian city of Raqqa, citing the IS-affiliated Arabic news agency al-Amaq.
"Abu Bakr al-Baghdadi has been killed by coalition airstrikes on Raqqa on the fifth day of Ramadan," said the statement, as quoted by Yeni Safak. The Muslim holy month began on June 6, meaning the strike would have happened on Saturday or Sunday.
Iraqi television network Al Sumariya reported that Baghdadi had been injured in a coalition air attack on an IS command post 40 miles (65 kilometers) west of the IS-held Iraqi city of Mosul. When asked for confirmation, however, Operation Inherent Resolve spokesman Colonel Chris Garver said he had "nothing to confirm this at this time."
This would not be the first time Baghdadi has been reported dead or injured. Back in October of 2015, the US said an airstrike had wounded the elusive IS leader, and in December the Pentagon speculated that Baghdadi might have died.
READ MORE: ISIS leader al-Baghdadi injured in Iraqi airstrike on terrorist convoy
On Monday, however, CNN reported that Baghdadi had traveled over the past six months, including on a trip to Mosul. The Islamic State leader has a $25 million US bounty on his head.
Another rumor was being circulating on Monday suggesting that Baghdadi had been killed in a Syrian or Russian airstrike on Raqqa, which the US coalition would try to claim as its own. The Russian Defense Ministry has neither confirmed nor denied the reports either.
Multiple observers have argued that the latest report of Baghdadi's death may have been digitally altered to appear as if it came from Al-Amaq, pointing to a lack of confirmation by the agency itself, or any other IS-affiliated media, for that matter.
The rumors may be part of a psychological and propaganda war against the terror group, as IS finds itself pressured on multiple fronts. While the Syrian Army supported by Russian airstrikes is advancing towards Raqqa, US-backed Kurdish and Arab fighters have surrounded IS at Manbij in northern Syria, while the Iraqi army and militias have attacked Fallujah and are moving on Mosul.
You can share this story on social media: