ISIS leader al-Baghdadi injured in Iraqi airstrike on terrorist convoy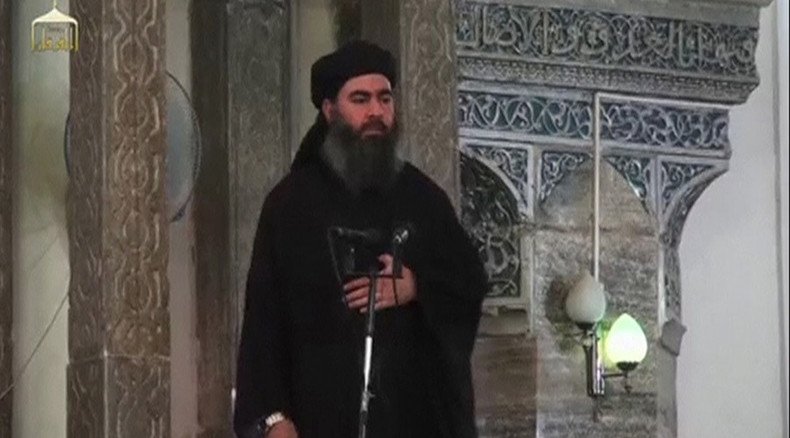 Iraq's Air Force struck the convoy of Islamic State leader Abu Bakr al-Baghdadi as he was about to meet with the terror group's top commanders, Reuters cited a military statement. The Baghdad Information Center has confirmed that the strike injured al-Baghdadi.
"Iraqi air forces have bombed the convoy of the terrorist Abu Bakr al-Baghdadi while he was heading to Karabla to attend a meeting with Daesh [ISIS] commanders," read the initial military statement cited by Reuters.
The military gave no information about the fate of the terrorist leader.
Al-Baghdadi was "wounded" in the airstrike, while three of his deputies were killed, Iranian news agency IRNA claimed, citing an informed source.
According to the source, the dead included Abu Saed al-Karbuli, a top terrorist commander, and another leading Islamic State figure, a Georgian-born Chechen known by the name of Abu Omar al-Shishani. The source described al-Shishani as having been "in charge of Daesh [ISIS] propagations." The report of the commanders' death has not been officially verified as of yet.
The Baghdad Information Center confirmed reports that al-Baghdadi and some of his top commanders had been injured late on Sunday, but refuted earlier claims that warlord al-Karbuli was killed. The center is a joint intelligence sharing project founded and run by Russia, Iran, Iraq and Syria.
"Abu Bakr al-Baghdadi was injured in the bombing that targeted his motorcade," the Baghdad Information Center said in a statement quoted by Sputnik news agency.
Hospital sources and local residents earlier told Reuters that eight senior local IS figures were killed in the airstrikes which hit two houses. However, they said al-Baghdadi wasn't among the killed. A Twitter account that publishes statements from IS claimed on Sunday that Baghdadi hadn't been targeted in the airstrike.
READ MORE: 63 ISIS targets hit in 64 Russian sorties over Syria - combat report
The convoy was attacked on Sunday in western Anbar province, at a location not far from the Syrian border, where Baghdadi was known to be meeting Islamic State commanders.
"The location of the meeting was also bombed and many of the group's leaders were killed and wounded. The fate of the murderer al-Baghdadi is unknown and he was carried away by a vehicle. His health condition is still unclear," the military said, according to Reuters.
Reports of al-Baghdadi being killed or deposed as Islamic State leader have emerged before, and his whereabouts have remained unknown for long periods of time.
According to a report in May, his spine was seriously wounded in an airstrike by the anti-ISIS coalition, which left him incapacitated. However, a few days later an audiotape of al-Baghdadi urging Muslims to join his self-proclaimed "caliphate" in Iraq and Syria was released.
Islamic State (formerly ISIS\ISIL) has seized large swathes of territory in Iraq and Syria, and has forged alliances with other militant groups in the Middle East. Last June, the terrorist organization proclaimed itself to be a worldwide caliphate, and Abu Bakr al-Baghdadi began to be referred to as caliph by his followers.
You can share this story on social media: