The one place where Hillary Clinton struggles with numbers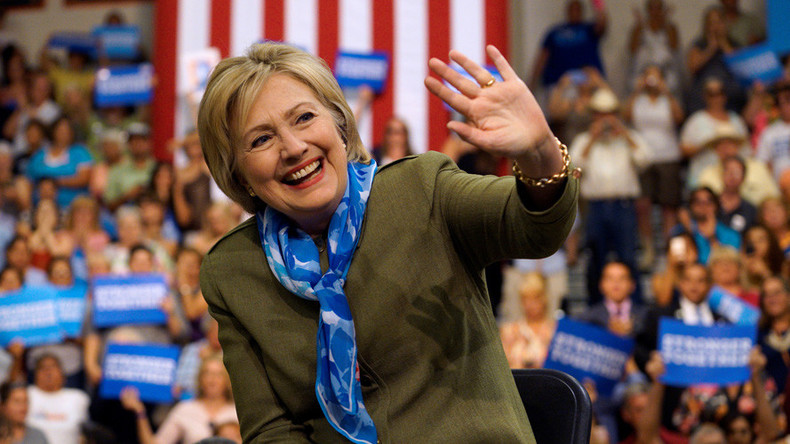 Big crowds are just not a thing for Democratic presidential nominee Hillary Clinton, her critics note. Republican Donald Trump's rallies draw far more people, as did Bernie Sanders'. Yet the polls still show Clinton the favorite to win the White House.
"Clinton's chance of winning is more than 95 percent," Reuters proclaimed Wednesday, citing a weekly Ipsos poll of 15,000 Americans and giving the Democrat a victory margin of anywhere from 90 to 108 votes in the Electoral College.
Critics of Clinton ‒ both in the Trump camp and among the Democrats who backed Sanders, her rival for the nomination ‒ are scratching their heads and pointing at the figures that show her rallies across the country are drawing only modest crowds.
One Sanders supporter tweeted out an image of a spreadsheet listing the estimated numbers of people attending Clinton's rallies in August. Assuming the numbers are correct, they work out to 14,500 people total, or an average of 1,318 per rally.
However, the estimates themselves may be too generous. For example, the spreadsheet lists a crowd of 1,000 in Des Moines, Iowa on August 10. The Des Moines Register gave the number of 1,500 people – but one journalist pointed out that an actual image analysis could come up with only 712.
Also, the total includes the 4,000 attendees at the National Association of Hispanic Journalists/National Association of Black Journalists (NAHJ/NABJ) conference in Washington, DC, where she spoke. Adjusted to include only the actual Hillary rallies, the attendance drops to below 11,000.
Sanders, an independent senator from Vermont who mounted a primary challenge to Clinton, consistently attracted the biggest crowds at his rallies of all presidential primary candidates, regardless of party – including a stadium-busting 27,000 people in Sacramento, California in May.
Another Sanders supporter tweeted the photos comparing that rally with a much smaller Clinton one. Yet Clinton went on to win the state's June 7 primary, though amid controversies about provisional and "crossover" ballots.
By August 17, Trump, the Republican presidential nominee, had held twice as many events as Clinton, with the total attendance estimated at 110,000 and averaging out to 5,031, according to conservative website Gateway Pundit.
Trump supporters have been quick to jump on the discrepancy.
Meanwhile, Hillary Clinton went to Hollywood on Tuesday, making an appearance on Jimmy Kimmel's talk show and raking in $3.34 million at a lunch fundraiser in Los Angeles, hosted by Justin Timberlake and Jessica Biel.