Hillary Clinton parties with Cher, while Jill Stein meets with flooding victims in Louisiana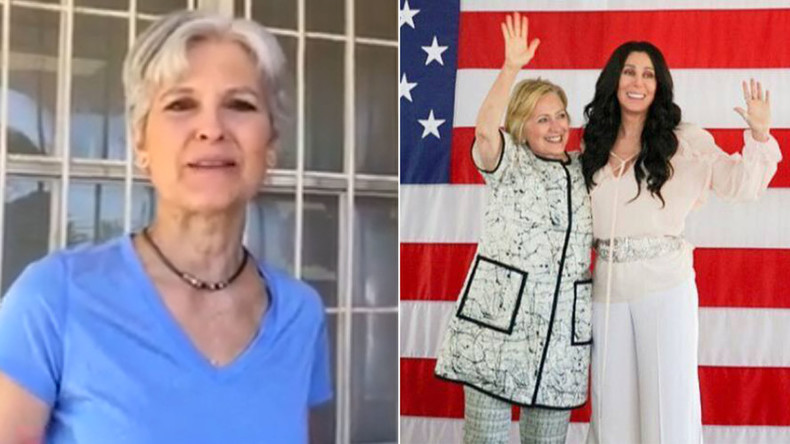 Democratic presidential candidate Hillary Clinton has zig-zagged the country raising money for her campaign, all while residents in Louisiana suffer from the "worst disaster since Hurricane Sandy."
Both Hillary Clinton and President Barack Obama have been criticized for not visiting victims in Louisiana.
READ MORE: 'Brownie' says Obama not doing a heck of a job with Louisiana flooding

Green Party presidential candidate Jill Stein did find time to meet with those affected on Sunday and Monday - without the disruptive presence of a big entourage with lots of secret service.
Donald Trump and running mate Mike Pence arrived in Baton Rouge on Friday in a visit that some Democrats called a photo opportunity.
Clinton has been busy pushing for dollars and votes since the floods began, but failed to find time to stop in Louisiana, even though she flew cross-country from her Massachusetts fundraiser with Cher to appear on Jimmy Kimmel's late-night talk show in Los Angeles on Monday.
Clinton's Schedule As Flooding Disaster Unfolded

August 16: Attended a voter registration event in Philadelphia, Pennsylvania
August 17: Spoke at an event in Cleveland, Ohio
August 18: Held a roundtable discussion in New York with law enforcement officials.
August 19: Celebrated her husband Bill's 70th birthday in Martha's Vineyard, Massachusetts
August 20: Appeared a $100,000-per-couple fundraiser with "Evelyn Robert Adrian de Rothschild and his good-looking blond Ladyship wife, New Jersey's Lynn Forester and Lady de Rothschild" at Nantucket, Massachusetts
August 21: Spoke at a fundraiser with Cher in nearby Provincetown, Massachusetts.
August 22: Flew to Los Angeles, without stopping in Louisiana on the way, to appear on Jimmy Kimmel Live, her first public appearance since Ohio on August 17.
While in Hollywood, Clinton made time to attend a number of fundraisers to hustle money from Hollywood bigwigs.
A luncheon was held by Denzel Washington and Samuel Jackson on Monday, which raised over $1.3 million. A second event was held by Disney CEO Bob Iger at the home of longtime Clinton supporters Haim Saban and Cheryl Mills, also costing $100,000 per couple.
August 23 Attended a fundraiser at the home of Justin Timberlake and Jessica Biel, after Leonardo Di Caprio pulled out of hosting at his home at the last minute "under shady circumstances,"according to Page Six.

Stein Visits Louisiana

Meeting with reporters at the National Press Club in Washington, DC Tuesday following her visit, Dr Jill Stein highlighted the "wrenching" moments for the victims in the aftermath of the floods, describing the "mementos of their lives and of their children, including sports trophies and photos" that she saw there.
Stein arrived in Baton Rouge on Sunday and stayed until Monday, assisting the cause.
She met with Green Party officials to discuss how the campaign could rally volunteers to help bring resources in the area.
The medical doctor voiced her concerns for rising sea levels in the wake of the extreme weather experienced in the US, and pointed to the fact that under Obama, "greenhouse gases have not just been rising, but the rate of rising has been accelerating," and called for a "climate state of emergency."
Stein pointed to the danger of the current political climate, with the Republican Party "essentially unraveling" and the Democrats move to the right, with Clinton welcoming Republicans into "her big tent" and using fossil fuel lobbyists in her campaign.
Speaking to RT on Tuesday, Stein accused the mainstream media of failing to cover topics the American people are really interested in.
Referencing the fires in California, the floods in Louisiana and the Sioux protests in North Dakota, Stein said, "We've got really critical life and death stuff happening for us as a society, that's gone under the radar so that these political machines can dominate our news, our politics, and I think the American people are in revolt."
You can share this story on social media: