Top US commander warns Damascus & Moscow against operations near American positions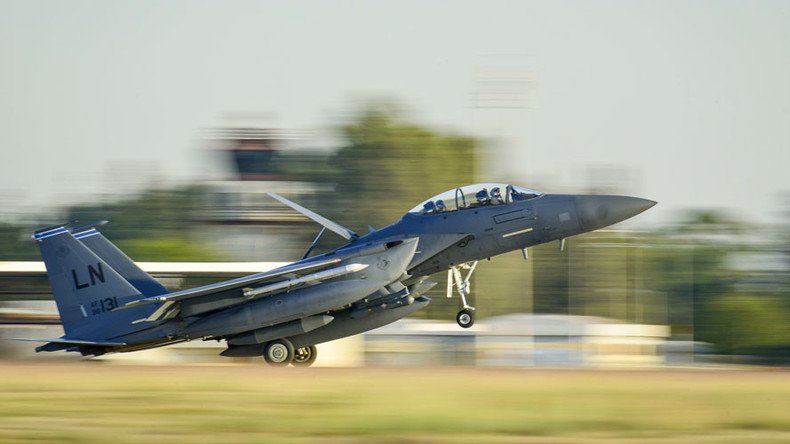 Counter measures will be taken by US troops in case they "feel threatened" by Syrian or Russian air forces, according to a senior US military official. The warning comes in the wake of a recent incident with Syrian warplanes attacking areas close to US Special Forces.
"We've informed the Russians where we're at ... (they) tell us they've informed the Syrians, and I'd just say that we will defend ourselves if we feel threatened," recently appointed US commander of American forces in Iraq and Syria Lt. Gen. Stephen Townsend said in a telephone interview with CNN on Saturday.
The US-led coalition had to order up its planes stationed near the northeastern Syrian city of Hasakah after two Syrian Su-24 jets dropped bombs "dangerously near" the US forces positions on Thursday, Pentagon spokesman Captain Jeff Davis told reporters shortly after the incident.
The US-led coalition on the ground tried reaching the Syrian warplanes on a common radio frequency, but there was no response. They had to contact the Russian command that confirmed that their plane wasn't involved.
By the time the US planes arrived, the Syrian jets had already left. The bombing caused no casualties, Pentagon reported. The US Special Forces were ordered to change location as a precaution while US jet patrols over the region were beefed up.
The US would "take whatever action is necessary" to defend their troops, Davis also said.
Earlier in July, the chief of Russia's Federal Security Service (FSB) Alexander Bortnikov reported that Russia and the US are exchanging information on "most sensitive issues." He admitted "despite the problems that exist," the secret services "are in a constant contact."
READ MORE: Russia calls for consolidation of intel data on terrorism, avoidance of politicization
"With regard to anti-terror issues, both we and they [Americans] understand the need for concrete cooperation, information exchange, and working together," Bortnikov said.
Next week Russian Foreign Minister Sergey Lavrov and US State Secretary John Kerry are to meet in Geneva to discuss the Syrian settlement and, among other issues, the Russia-US cooperation and more active exchange of intelligence, media reports suggest, citing unnamed US officials.
You can share this story on social media: