Pentagon sends jets, warning as Syria bombs near US-backed Kurds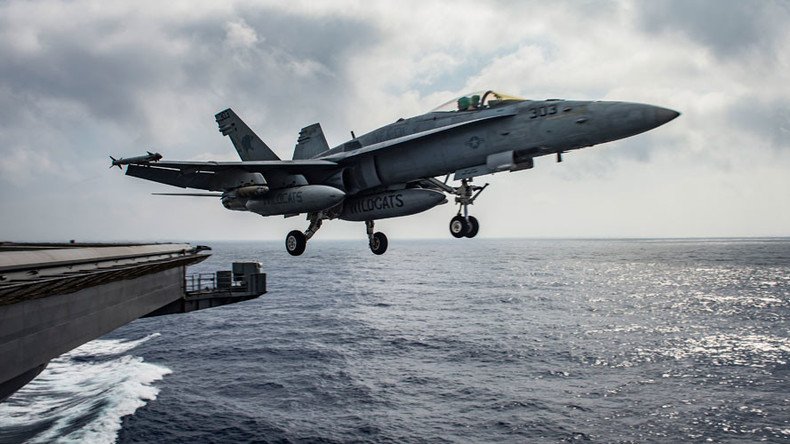 The US-led coalition scrambled planes near the northeastern Syrian city of Hasakah, after Syrian SU-24 airplanes dropped bombs "dangerously near" the US Special Forces operators embedded with the Kurdish YPG militia in the area.
Two Syrian Su-24 jets struck Kurdish positions in and near Hasakah, in northeastern Syria, on Thursday, Pentagon spokesman Captain Jeff Davis told reporters.
The strike came close to US Special Forces operators, who were embedded with the so-called Syrian Democratic Forces (SDF), comprised of the Kurdish YPG and local Arab militias.
By the time the US jets arrived, the Syrian bombers had already departed. No Americans were wounded in the bombing, according to Davis. The Special Forces were ordered to retreat from the area as a precaution.
US scrambled jets over N. Syria after 2 Syria Su-24s bomb dangerously close to US SOF on the ground. Say Dod Spox Capt. Davis.

— Jamie McIntyre (@jamiejmcintyre) August 19, 2016
When the strikes began, the "coalition forces on the ground" tried reaching the Syrian jets on a common radio frequency, but received no response, Davis added. US forces then reached out to the Russian military, using a previously established channel, and the Russians confirmed their aircraft were not involved.
The Americans made it clear that the US would "take whatever action is necessary" to defend the special operators on the ground, Davis said.
The US has increased air patrols in the area, Davis said.
Local media report that the fighting in Hasakah broke out earlier this week between the pro-government National Defense Forces (NDF) militia and the Kurdish forces, with the Syrian Army role limited to 10 airstrikes against the Kurds.
In a statement, the Syrian Army said it "responded appropriately" to the attempt by Kurdish militias to take over the city.
The US-backed SDF was set up in October 2015, as a proxy force against Islamic State (IS, formerly ISIS/ISIL). The militia recently succeeded in ousting IS from Manbij, a strategic city in northern Syria near the Turkish border.
While the Russian aerospace forces have been invited by the government in Damascus, the presence of US forces in Syria is not authorized under international law.
You can share this story on social media: