Air Force switching away from cancer-linked firefighting foam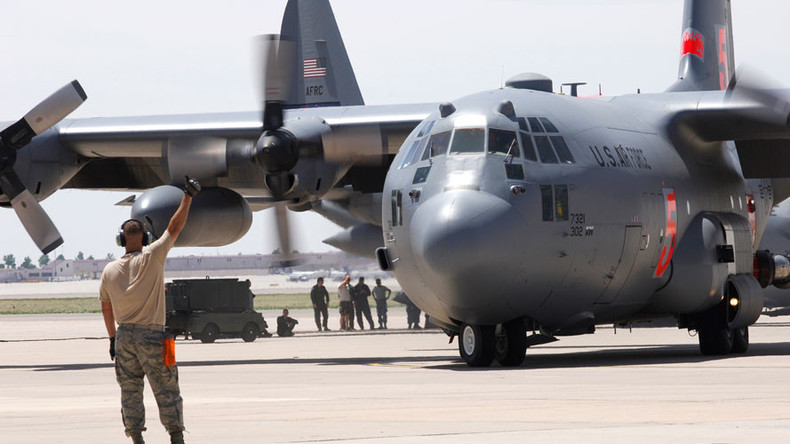 The US Air Force says it will switch to an "environmentally responsible" foam used to extinguish fires, as testing shows the current foam contains contaminants associated with cancer and has soiled drinking water near military sites.
On Monday, the Air Force dedicated $6.2 million to switch flame-retardant foams used in the event of a plane crash or other fuel-related fires.
The current foam contains perfluorooctanesulfonic acid and perfluorooctanoic acid, or PFOS and PFOA, toxic chemicals commonly used in decades past to develop a vast array of industrial and commercial products, such as furniture fabrics and non-stick cookware. The chemicals have been linked with some types of cancer, including testicular and kidney cancers, as well as hormone disruption and obesity.
The chemicals were detected at current and former military bases where firefighting training exercises have been conducted, including Peterson Air Force Base in Colorado Springs, Colorado, according to health officials. In that area, PFOS and PFOA have been found in three drinking water systems.
The Air Force has taken steps to analyze groundwater and soil samples, and that while the service has "a lot of work to do," Mark Kinkade, spokesman for the Air Force Civil Engineer Center, said the new foam will contain no PFOS and little to no PFOA, the Associated Press reported.
The Air Force expects the contract, awarded to ICL Performance Products, to result in a change of foam at all of the service's fire stations and vehicles by the end of 2016. In addition, over the next 15 months or so, the service will retrofit aircraft and firefighting vehicles in order for firefighters to conduct operational and foam checks without releasing any foam into the environment. The Air Force also said it will cease using the current foam in training exercises.
"The Air Force must continue to use [the foam] in its defense operations to protect people, critical weapon systems and infrastructure, but we will do so in a more environmentally responsible way that also makes our operations safer for the public," said Air Force fire chief James Podolske Jr.
In May, the US Environmental Protection Agency called the chemicals "contaminants of concern," raising the accepted levels of PFOA and PFOS that can exist in sources of drinking water.
"While consumer products and food are a large source of exposure to these chemicals for most people, drinking water can be an additional source in the small percentage of communities where these chemicals have contaminated water supplies," the EPA said in May. "Such contamination is typically localized and associated with a specific facility, for example, an industrial facility where these chemicals were produced or used to manufacture other products or an airfield at which they were used for firefighting."
The US Defense Department said earlier this year that it was analyzing hundreds of its sites and installations around the US for possible contamination related to the current foam, AP reported.
PFOS and PFOA are types of perfluoroalkyl substances (PFASs). While many top manufacturers have ended their use based on high levels of toxicity, PFASs remain present in watersheds and elsewhere around the nation.
Earlier this month, a study released by researchers at Harvard University revealed that drinking water for about six million Americans exceeds accepted levels of PFASs. They based their report on EPA water samples taken from 2013 to 2015 across the US, including areas near industrial sites, military fire training locations, airports, and wastewater treatment plants.
"For many years, chemicals with unknown toxicities, such as PFASs, were allowed to be used and released to the environment, and we now have to face the severe consequences," said Xindi Hu, the study's lead author.
"In addition, the actual number of people exposed may be even higher than our study found, because government data for levels of these compounds in drinking water is lacking for almost a third of the U.S. population—about 100 million people."
You can share this story on social media: