Tangled web: Trump's campaign chief worked in Ukraine for Clinton associates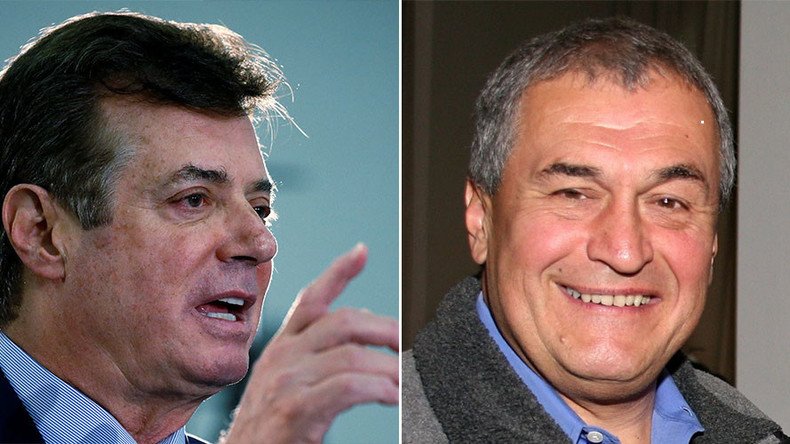 While Donald Trump's campaign chair Paul Manafort worked for Ukraine's former government, he funnelled some $2.2 million in cash to two Washington lobbying firms, including the Clinton-connected Podesta Group, new revelations show.
Ukraine's current government, which goes back to the US-backed February 2014 coup that overthrew President Viktor Yanukovich, has claimed that Manafort had pocketed more than $12 million as a lobbyist and consultant for the "pro-Russian regime."
Between 2012 and 2014, Manafort and his business associate Rick Gates steered at least $1.13 million in lobbying fees to the Podesta Group Inc. and another $1.07 million to Mercury LLC, AP reported on Thursday.
The money came from the European Centre for a Modern Ukraine, a nonprofit "governed by a board that initially included parliament members" from the ruling Party of Regions, according to AP.
The founder and chairman of the Podesta Group is Tony Podesta – brother of John Podesta, Bill Clinton's former chief of staff and current campaign chairman for Democratic presidential nominee Hillary Clinton. Mercury is headed by Vin Weber, a former congressman and adviser to 2012 Republican candidate Mitt Romney.
US lobbying records show that the Podesta Group was paid to lobby Congress, the White House National Security Council, the State Department and other federal agencies, between June 2012 and April 2014. Mercury was paid to lobby the US Congress against demands to free Yulia Tymoshenko, one of Yanukovich's political opponents who was imprisoned for corruption.
Several "current and former employees of the Podesta Group" spoke to AP about the work Manafort and Gates did with the Ukrainian nonprofit. While Manafort himself did not comment for the story, Gates said he spoke with him before answering AP's questions.
Gates told the news service that the business relationship was lawful, and that there was no attempt to dodge the reporting requirements under the Foreign Agents Registration Act (FARA). He was backed up by Podesta Group's CEO Kimberley Fritts, who said that the two lobbying firms had agreed that the legal disclosure to the US Justice Department was not necessary.
"If counsel had determined FARA was the way to go, we would have gladly registered under FARA," Fritts told AP, adding that the Ukrainian nonprofit provided a signed statement affirming its independence from the government.
Under FARA, American lobbyists must report to the Justice Department if they are employed by foreign governments, and provide detailed disclosures. Violating the act is a felony and carries penalties of up to five years in prison and up to $250,000 in fines.
"I was never given any reason to believe Rick [Gates] was a Party of Regions consultant," said John Ward Anderson, a current Podesta employee, in a statement provided by the firm. "My assumption was that he was working for the Centre, as we were."
The Centre's current director, Ina Kirsch, told AP that her group had never worked with Manafort or Gates, and had hired the Washington lobbying firms on its own, though she confirmed having two meetings with Manafort.
Mercury's Weber told AP that he had discussed the Ukraine project in a conference call with Manafort and Tony Podesta.
The Podesta Group has been among the leading fundraisers for Hillary Clinton's presidential campaign, according to the Washington Post. They have also worked for the governments of Albania, Georgia, "Kosovo," Moldova, the Maldives, and Somalia, among others. In September last year, Podesta took a $140,000 monthly retainer from Saudi Arabia for "public relations services."
You can share this story on social media: