Lightning strikes 5 people sitting on New York park bench, killing 1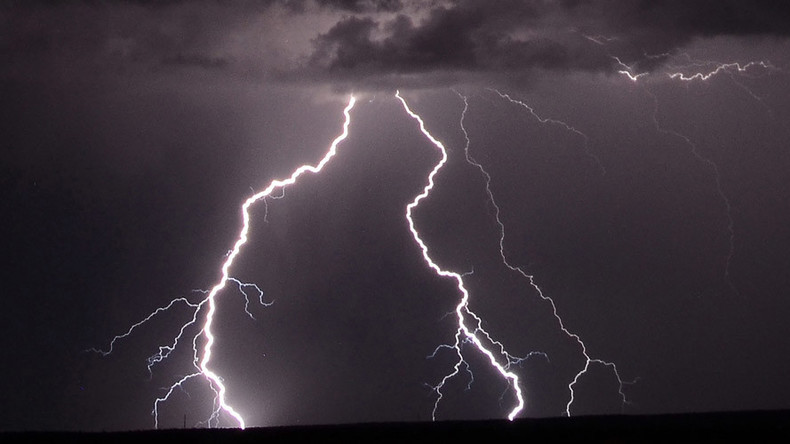 A lighting strike has hit a group of five people quietly enjoying their weekend at a local park in the city of Poughkeepsie, New York, killing one and injuring four others.
The incident took place at around 4 p.m. local time at Mansion Square Park on Friday. An emergency service unit dispatched to the area found three people unconscious and two others lightly injured with some of their belongings on fire, local media reported.
One of the victims, the 50-year-old male, died at Vassar Brothers Medical Center at night, Tim Massie, a senior vice president at hospital operator Health Quest, said, according to AP. Two other men with burns and internal injuries remain in intensive care wards.
The two less seriously injured people were taken to another hospital. No information on their condition is so far available.
READ MORE: Dramatic moment Empire State Building struck by lightning bolt captured on camera (VIDEO)
The group of five people was sitting on a bench in the park when the lightning struck, hitting a nearby tree, traveling down to the ground and catching the victims, Massie added.
"They were blue – like the sky, blue – you know, it was crazy," eyewitness Sam Hail said, according to CBS.
"There was actually smoke coming off one the guys, actually, you know, one of the guys that was laid out," Hail added. "He was alive, though, but like you could see he was smoking. His pants; his clothes were smoking."
The age of the victims ranged from 46 to 55, local police said.
There were scorch marks on the nearby tree, and the bench was destroyed.
READ MORE: Nearly 100 killed by lightning strikes in India in 2 days (VIDEO)
The chances of being struck by lightning are 1 in 960,000 while strikes usually hit one or two people, according to the National Weather Service.
"It's pretty unusual," Brian Frugis, an expert from the service, told the Poughkeepsie Journal. "It's usually a much smaller group."
Earlier this week, two people were found dead with signs of a lightning strike in the city of Batavia in New York State.
You can share this story on social media: