Parents' nightmare: Mississippi officials take away kids for too much homework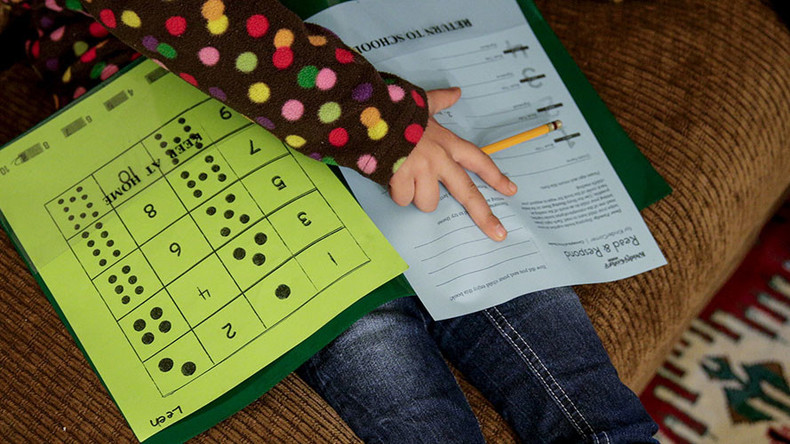 A Mississippi couple lost custody of their five children for making them do "excessive" homework and having too short "punishment" haircuts, among other unproven accusations. It took them months of legal battles with the state to get their children back.
Details of this social services horror story would have stayed inside the family of Jennifer and Scott Berry, had it not been uncovered by the Biloxi-based Sun Herald.
READ MORE: 6 month-old baby among 12 girls discovered in Pennsylvania house of charged sex offender
Over two years after winning a case against Mississippi Department of Human Services, the couple and their children are still struggling to get back to life as usual.
"All I could do was replay their leaving in my mind and see their crying faces and hear their voices, confused and afraid," Jennifer Berry said.
The Berrys' five children – one mutual son and four kids from their previous relationships – were taken away and split up between foster families in March of 2014, for what the state officials called was "isolation or mental maltreatment".
The DHS started making visits to the Berrys after receiving an anonymous report. Social workers said they had to investigate it to prove that children were not victims of child abuse or neglect.
"They never actually said what the actual accusation was," Scott Berry told the newspaper. The Berrys later learned that someone complained that the family had no food at home and made their minor children cook their own meals.
Having conducted a thorough search of the house, the DHS workers interviewed children one by one – all of whom are minors – behind closed doors, without parents' consent and supervision.
Though the DHS had given the family positive recommendations in an adoption case just months prior, following that visit, the agency was now ordering the Berrys to hand over their six-year old daughter to a relative.
READ MORE: 'It's sickening': 2 toddlers tied up in backyard as 8 children found abandoned in Texas
At their first Youth Court hearing, the Berrys learned that they were being accused of treating the girl differently from their other children.
One of the charges against the parents was that they gave the girl a "punishment haircut", because her hair was shorter than her sisters'.
After Jennifer Berry managed to prove that the girl was happy with the haircut, the DHS focused on older children.
"He said, 'None of the other stuff really concerns me, but what does concern me is that the 8-year-old knows how to use the microwave,'" the mother said, recalling the words of the judge.
After speaking to the children during forensic interviews, the DHS said they found evidence of mistreatment and ordered that all of the children be taken into protective custody.
The DHS workers took the children away from their home and split them up, despite their mother's pleads right after the hearing.
"When we left the court, obviously we were hysterical," Jennifer Berry said. "We go home and literally sit there all day, terrified."
The Berrys eventually learned that the major reason for their horrors with DHS was Scott's six-year old daughter from a previous marriage.
A DHS worker accused them of "isolating" the girl and forcing her to do her homework for too long.
"She does homework for three to four hours a day at night," the worker said, according to the Sun Herald.
Scott Berry argued that this was not the case.
"No, she doesn't. (She) has an hour time limit. She has an hour to do her homework. She either does it or she doesn't," he said.
He explained that the girl would not be allowed to play in the backyard if she failed to do her homework, but was allowed to leave her room.
The couple said that the girl suffered some mental trauma after being taken away from her mother, and that their disciplining method was recommended by a child psychiatrist from the Mississippi Youth Program Around the Clock (MYPAC).
By June 2014, about two months after DHS took their children away, the Berrys managed to fight their children back after Court Appointed Special Advocates (CASA) of Hancock County got involved.
"I still kind of attribute the end of the case to the CASA worker, who really knew the case," Jennifer Berry said. "They just didn't really let up because they knew it shouldn't have happened."
However, when children arrived home, they were not the same anymore.
"I had no idea what kind of people they were with, and we all have heard those awful horror stories, so there was no guarantee that they were with good people in a good home," Jennifer recalled. She said she missing her son's first "mama".
According to the Sun Herald, the Berrys are hardly the first parents who had to go through the ordeal.
By December 2014, Hancock County had a record number of children in DHS custody – the highest per capita in Mississippi, 10 times greater than in any other county.
The US Department of Health & Human Services estimates that more than 2,000 children living in healthy, non-abusive homes – as deemed by DHS – are taken into custody every year in Mississippi, the Herald found.
Even though about 78.3 percent of all reports of child maltreatment DHS investigates are found to be unsubstantiated, roughly 21 percent of those non-abused, non-neglected children are taken into state custody anyway.
Reached for a comment by the Sun Herald, the DHS refused to speak, saying it couldn't directly comment on specific cases.