'It's sickening': 2 toddlers tied up in backyard as 8 children found abandoned in Texas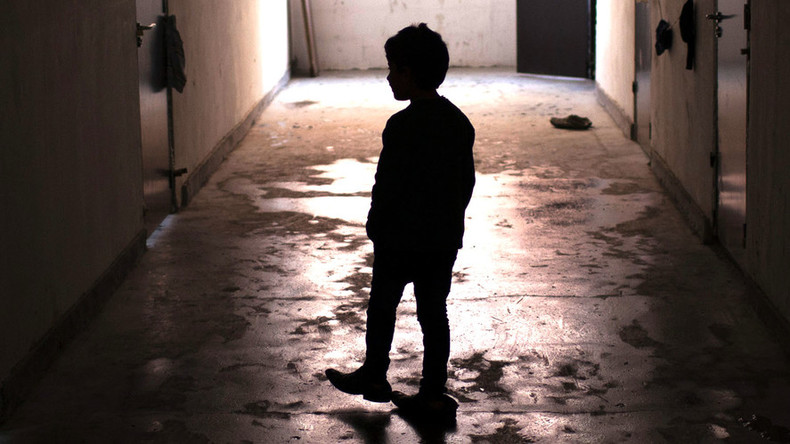 Two crying toddlers tied or chained down in the backyard of a home in San Antonio, Texas, were among the eight children, ranging from ages 10 months to 13 years old, found by police in what authorities have called a "horrific" case of child abuse.
Around 11:45pm on Thursday, Bexar County sheriff's deputies arrived at the home following a 911 notification in which the caller said she had heard children crying in the backyard for at least a couple of hours. Using a ladder, the deputies found a two-year-old boy chained to the ground and a 3-year-old girl tied to a door with a dog leash.
"Our deputies arrive to the house, they knock on the front door (and) no one answers. They go to the backyard, they get a ladder to look over the fence and that's where they see the two toddlers," Bexar County Sheriff's Office spokesman James Keith said, according to KSAT. "The little boy was chained to the ground. The little girl was tied up with a dog leash to a door. It was obvious they had both been there a while. There (were) obvious signs of abuse."
Inside the house, deputies found six more unsupervised children of varying ages. The toddlers were taken to Christus Santa Rosa Children's Hospital to be treated for injuries, the Sheriff's Office said. The girl had a broken arm, Keith added. All eight children are now in custody of Texas Child Protective Services.
"It's sickening," Keith said, according to the San Antonio Express-News. "To call this horrific would be an understatement. If it wasn't for our deputies and this caller who tipped us off, we know that this could have had an even worse outcome."
Keith said the parents of the six children found inside the house returned on Friday morning.
"They were detained and brought downtown and are currently being questioned," Keith said.
The mother is expected to be charged with child endangerment, Keith said, with other charges likely. An investigation continues in the search of parents of the toddlers found outside.
A neighbor told the Express-News that the home's residents "didn't come out much" and "seemed like all right people."
The home, one of three conjoining units in a townhouse, is owned by Pho Han D Family Limited Partnership. Phone calls to numbers associated with the group were not answered, the Express-News reported.
"We are grateful that this person was brave enough to call us and that our deputies were able to respond when they did," Keith said. "I don't even want to think about how this could have happened, how this could have played out, had our deputies not gotten there when they did."
The zip code of the section of Bexar County where the home is located is among the worst areas for child abuse reports in Texas. The zip code, 78239, is ranked 1,738 out of 1,935 total zip codes in Texas for "substantiated child maltreatment, child abuse and neglect related fatalities, teen birth, substance abuse, and child poverty rates," according to the Texas Association for the Protection of Children's ZipRisk Project.