Texas school under fire after allegedly locking up boy in cold room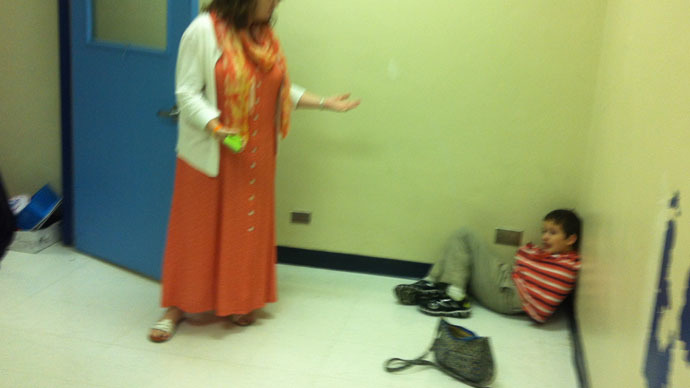 An elementary school in New Braunfels, Texas is taking heat for allegedly isolating a young boy in a cold, empty room and locking him inside for about 90 minutes. The school district is now investigating the issue.
While the allegations just came to light on Monday, the incident actually occurred last Wednesday when a mother arrived at Carl Schurz Elementary in order to deal with her son, who was in trouble for throwing food during lunch time. However, when she got to see her son, a 9-year-old named Alex, he was curled up on the floor of a "frigid" room, according to a website created by the boy's father, Trevor Snowden.
Alex was allegedly locked inside of the room – called a "focus room" by the boy – for 90 minutes, the website stated. Photographs from the website show a blue circle drawn on the floor with Alex in the corner of the room. He was reportedly told "he had to sit in the circle to earn 90 minutes in the classroom," but couldn't do it because he was too cold.
In a transcript posted on the website, Alex was asked if the room is "always cold." He responded that it is, adding that sometimes a teacher taunted him by putting on her own jacket and saying, "It's sure nice to be warm." He also said instructors "shout" at him and "say rude things."
According to Alex, students are not allowed to eat their snack in the room. He said he was "stuck there all day."
Texas boy crying after being locked in 'focus room' for 90 ... http://t.co/YhmOhgBHxH | https://t.co/apGmzF9vUwpic.twitter.com/84dGtIhihg

— Nicole Williams (@NcoleWilliams) May 18, 2015
"We need to raise more awareness to these sorts of abuses and protect our children," the website reads. "Had the mother of this child not insisted aggressively to accompany the retrieval of her child then she would[n't] know any different."
Local ABC affiliate KSAT reported Monday that the New Braunfels Independent School District is looking into the issue. On Friday, it issued a letter to parents attempting to clarify the difference between "focus rooms" and "safe rooms."
"Due to privacy laws, we are not able to provide any more detail about the student or the situation. You may hear the term 'focus room' or 'safe room.' These are two different environments," the letter read. "A 'focus room' is a classroom environment that allows for behavior intervention such as social skills lessons and counseling. A 'safe room' is used in times when a child is a danger to himself/herself or others."
However, district superintendent Randy Moczygemba told parents on Monday that the website set up by Alex's parents contained "inaccurate information," according to My San Antonio.
Meanwhile, the Texas Education Agency said a complaint has been opened, KSAT reported.
You can share this story on social media: