Ameri-cone Dream: NY billionaire offers bounty to catch the 'ice cream bandits'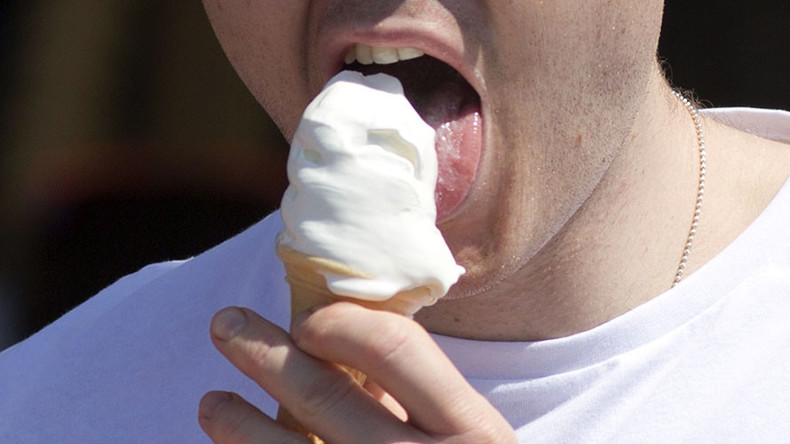 Crime rates may be down in New York City but with it baking in 90-degree heat, a new criminal class has arisen – the ice cream bandit. A supermarket tycoon is offering a financial award for any information on the sticky thieves.
According to John Catsimatides, owner of Gristedes Foods – the largest grocery chain in Manhattan – the thieves have been raiding his stores and removing cartons of ice cream in order to resell them to smaller shops around the city.
The supermarket tycoon who once ran for mayor on the Republican ticket took to Twitter and offered a $5,000 reward for any information about the crooks.
"They keep stealing it because it's an easy item to sell," Catsimatides told The New York Post. "The bodegas buy it, they encourage it," he said, using a New York term for local convenience stores.
The ice cream, which retails for $6 a pint, is resold to bodegas for as low as 10 cents, sources told the authorities.
A Bonnie-and-Clyde duo were caught on surveillance camera hit Catsimatides' supermarket in Chelsea on Tuesday, taking 80 packages of Haagen-Dazs and Ben & Jerry's ice cream before slipping out the door.
Workers at the store gave chase, however, and the pair abandoned the frozen loot on the street.
"The guy said, 'We got this from another store,' I'm like, Really?" Robert Montalvo, the store manager told the Post.
Police said the theft matches a citywide pattern. There have been more than 250 ice cream theft complaints this year, and 130 arrests, according to WPIX.
City officials have called the resale of ice cream a public health risk, since the dairy products can become contaminated with germs if left outside the freezer for too long.